A lot has changed in the 50 years since the founding of Jewish Voice Ministries International (JVMI), but its purpose has remained the same: to transform lives and see all Israel saved. 
Building on a Legacy of Prayer
Right from the start, Jewish Voice founder Louis Kaplan saw prayer as the modus operandi for the ministry. When there was a pressing need, Brother Kaplan issued a call to prayer – literally shouting through the office for the staff to "come pray, now!"
His wife, Chira, often sat at her desk, head bowed, interceding over the themes and articles of the next magazine issue.
Jonathan Bernis, a gifted and anointed leader, has always known that – without prayer – any impact is limited. Like Louis Kaplan, he married a dedicated intercessor, his wife Elisangela, who prays faithfully for him and the ministry.
Jewish Voice remains completely dependent on God for His guidance in every aspect of the ministry. JVMI now has a full-time prayer coordinator who nurtures the culture of prayer and supports a host of intercessors committed to praying for the ministry, Israel, and Jewish people throughout the world. Daily staff prayer and seasons of fasting also uphold the organization and its work in the field.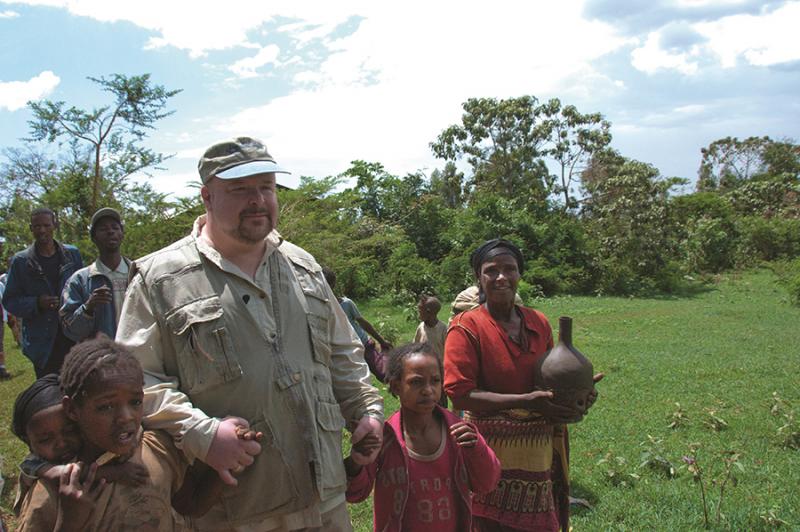 Television
Jewish Voice Ministries began in 1967 as Jewish Voice Broadcasts, producing a 15-minute weekly radio program that, a decade later, evolved into a weekly television show. Technology has changed dramatically since the days when Louis and Chira Kaplan hosted the program from their living room.
Today, the weekly television show Jewish Voice with Jonathan Bernis continues the vision entrusted to Louis Kaplan in 1978: to use television to proclaim the Good News of Yeshua (Jesus) and engage the Church concerning Israel and the Jewish people.
Magazine
What began as a monthly ministry update with a homespun flavor grew into Jewish Voice Today, a full-color magazine of up to 30 pages. Each issue contains informative articles from leading spiritual authorities regarding biblical scholarship, Israel, finances, events in the Middle East, Messianic Judaism and other content important to Believers today.
Newsletter
JVMI's quarterly Connection newsletter is a vehicle to link ministry partners with the fruit of their support. Outreach reports, photos and personal stories of changed lives provide a glimpse into the ministry's work around the world.
Website & Online Presence
Jewish Voice began long before computers, DVDs and cell phones. Early newsletters were crafted on old-fashioned typewriters. But JVMI kept pace with the changing world, and the September 1997 newsletter enthusiastically reported that 180 people had visited the brand-new website (then called a Web site). Today, the JVMI website receives tens of thousands of visits each month. Beyond that, Jewish Voice has a lively presence on social media including more than 1 million Facebook followers.
Tours & Excursions
Jewish Voice continues to host exciting tours to Israel. Believers visit biblical sites while receiving rich context and teaching from a Messianic Jewish perspective. Other excursions are occasionally offered; watch for more information online and in the Ministries' newsletter.
Speakers Bureau
Both Louis Kaplan and Jonathan Bernis had a burden for bridging the gap that often exists between the Christian Church and the Jewish people. For 50 years, it has been an integral part of the Jewish Voice mission to inspire within Gentile Believers a love for the Jewish people and an understanding of the biblical mandate to share the Gospel with them. The JVMI Church Relations team and Speakers Bureau take this mission to the Body of Messiah to help Believers understand the Jewish roots of Christianity.
Partnerships
Recognizing that no organization can touch every corner of the globe single-handedly, Jewish Voice is committed to supporting like-minded partner ministries. Today, Jewish Voice gives over $2 million a year to more than 100 partner ministries and congregations that advance the vision of JVMI to see all Israel saved, transform lives, and grow the Messianic Jewish community.
Medical Outreaches
When God first led Jonathan Bernis to provide humanitarian aid to impoverished Jewish communities in Africa and India, Jewish Voice embarked on a ministry vehicle that has now helped hundreds of thousands of people. Today, Jewish Voice Medical Clinics include eye surgeries, dermatology and pediatric care, along with dentistry and general medical care.
Outreaches expanded to provide water filtration devices and water hygiene education to help prevent diseases. Even more importantly, JVMI Medical Outreaches have produced the lasting fruit of tens of thousands of new Believers.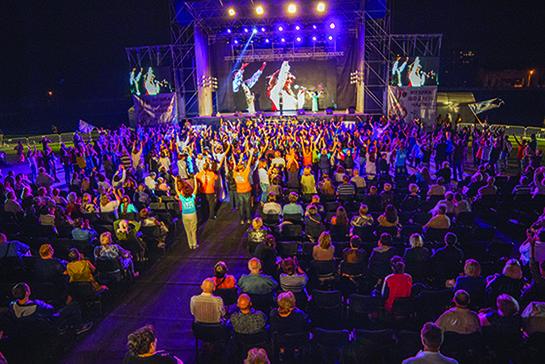 Festivals
In the early 1990s, when Jonathan Bernis returned to St. Petersburg, Russia, he wasn't sure of God's plan. He certainly didn't know that the first Festival of Jewish Music & Dance would result in an ongoing ministry that would reach more than 611,000 people first hand and millions more through television. Thousands of Jewish people have received Yeshua as their Messiah through this ministry, and, as a result, Messianic congregations have sprung up and continue to thrive from South America to Siberia to India.
Israel Clinics
The group of people who survived the Holocaust is shrinking every day. In Israel, many of them struggle to live on a budget that is well below the poverty line. Jewish Voice works with local organizations and professionals to provide prescription eyeglasses and dental care at no charge to Holocaust survivors and others in need in Israel.
Congregation and Leadership Development
The fruit of JVMI's Medical Outreaches grew exponentially after the first visit to Zimbabwe's Lemba in 2012 and, as a result, the ministry formed a separate Congregation and Leadership Development (CLD) department. CLD follows the work of Medical Clinics and opens doors for ongoing relationships, discipleship, congregation planting, and economic stimulus in the communities Jewish Voice serves. JVMI also serves the broader Messianic Jewish community through guidance, financial resources, and leadership summits to help develop and deepen Messianic Jewish congregations and ministries.
The Next 50 Years
Jewish Voice Ministries exists to transform lives and see all Israel saved. JVMI is continuously on the lookout for new strategies to accomplish its mission to proclaim the Gospel, to grow the Messianic Jewish community, and to engage the Church concerning Israel and the Jewish people.
If you spend any time with Jonathan Bernis, you'll eventually hear him say, "People don't care what you know until they know that you care." This truth has driven Jewish Voice to serve people around the world, and thereby earn the right to share the Gospel with them.
JVMI is currently exploring reported Jewish communities in South Africa, Somaliland, and Uganda. Just a few other goals for the future include:
Enlarging the mission to build the Messianic Jewish movement throughout Zimbabwe, Ethiopia, South Africa, and other nations
Expanding outreach to colleges and universities
Reaching younger generations through social media and becoming more relevant to the popular culture of our times
Fifty years is a long time. And yet, we know that in God's eyes, 1,000 years may be equal to a single day. If the Lord delays His coming for another 50 years, you can be certain that Jewish Voice Ministries
International will still be here, serving Him, saving lives, and preaching His Word.
Discover the entire inspiring Jewish Voice story in our beautiful, full-color coffee-table book, Jewish Voice: A Look at 50 Years. Through more than 200 photographs, it chronicles 50 years of ministry, including biographies, stories and reflections from television guests, partners and staff.