Sometimes I can't believe how quickly time flies by.
It seems like just yesterday we were beginning 2017 and the celebration of the 50th Anniversary year of Jewish Voice Ministries. Then – in mid-2017 – we marked the milestone of having served one million people during our first 50 years in ministry.
Now the calendar has turned over again. And 2018 marks the start of our second 50 years of caring for Jewish people around the world. And that means new opportunities to share the Good News of Yeshua (Jesus) as their Messiah.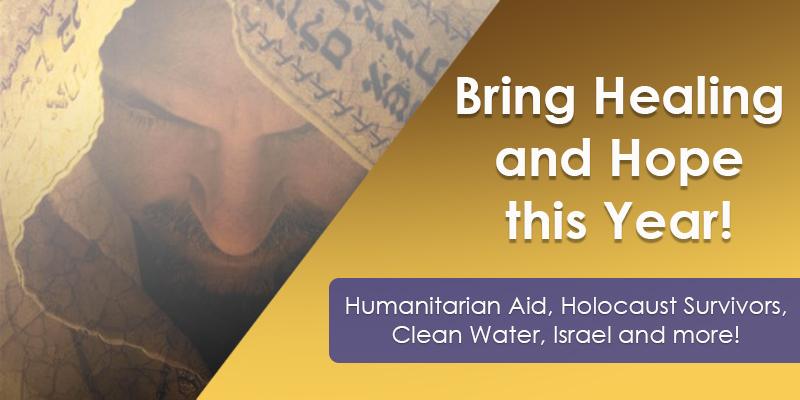 And, who knows … this may be the year that Yeshua returns. Certainly the biblical signs indicate that great day may not be far off.
Which is all the more reason why we, as a ministry – and all of us as Believers in Jesus – need to show ourselves faithful.
That means we need to be doing even more to care for the needs of others – especially for the poor and impoverished among the people of Israel. We must continue meeting physical needs, of course. But we especially must work hard to bring Jewish people to their Messiah, Yeshua.
This must be our heart's desire, as it was with the apostle Paul:
"Brothers and sisters, my heart's desire and my prayer to God for Israel is for their salvation." – Romans 10:1 (TLV)
But Jewish Voice cannot do this alone. We need the support only you and other caring partners can provide.
So I hope you'll be inspired to pray AND give to this effort by renewing your support right now. As you do, you'll care for Jewish people who need healing and hope – and especially those who need salvation found only through Yeshua.
When you give, you'll support many different efforts that provide direct care for Jewish people and their neighbors, including …
Humanitarian aid
Through your gifts, Jewish Voice Medical Clinics in remote African regions bring clean water, and medical, dental and eye care to suffering Jewish people and their neighbors. Through these practical expressions of God's love in the past year alone, we cared for our 100,000th Medical Clinic patient just in Zimbabwe! In this way we gain trust and the opportunity to share Yeshua with them.
Ministry to the descendants of the ancient tribes of Israel
It has now been proven there are communities of Jewish people living in remote areas of the world – in Ethiopia, Zimbabwe, India and perhaps also in Somaliland, Afghanistan and elsewhere.
Some of these groups suffer isolation and poverty – rejected by surrounding communities because of their ancient Jewish culture and practices. But, through your financial support, together we can reach out to these people, affirm their Jewish heritage, provide needed physical care and share the Good News of the Messiah who came on their behalf.
Care for Holocaust survivors
Your gifts help Holocaust survivors in Israel, all of whom are now, of course, elderly. Many of these people, who have already suffered so much, have no living family and little money for essential needs like dental and vision care. In partnership, we can provide for these survivors and other elderly Jewish people in Israel.
Fighting anti-Semitism and persecution
Anti-Semitism has always existed. And now, again, it's becoming more widespread. From the persecution of Jewish people in remote parts of the world, to the growing Boycott, Divest and Sanction movement and the constant threats against Israel – anti-Semitism is real and spreading.
Your support enables a strong voice against the evil of anti-Semitism. And, whenever possible, we offer encouragement and practical help to Jewish people suffering isolation and persecution.
Support for Israel
Your financial partnership helps support ministries laboring in the Nation of Israel and encourages others to pray for Israel and for Jerusalem. I believe reestablishment of the Jewish homeland is a fulfillment of biblical prophecy and an important milestone leading to the return of Yeshua and the establishment of God's eternal Kingdom.
Teaching the Jewish roots of Christianity
Many Believers today don't recognize how much Christianity is built directly on the foundation of the Jewish faith.
Jewish Voice serves Christians by teaching the Hebraic roots of the faith, the Church's responsibility to Israel and how to share the Good News of the Messiah with Jewish people.
Media and ministry resources
Millions of people are being reached by Jewish Voice media and ministry resources – thanks to you. Our flagship television program, Jewish Voice with Jonathan Bernis, and television specials reach hundreds of thousands with inspiration and unique teaching.
Jewish Voice also produces a range of audio, video and online resources that inform and encourage – books, CDs, DVDs and more. Our magazine, Jewish Voice Today, teaches the Jewish roots of Christianity, shares Israel updates, and keeps readers up to date on the Messianic Movement and the fulfillment of Bible prophecy.
Sharing Jesus as the Messiah
The very heart of this ministry – the primary reason for our being – is to introduce Jewish people to Jesus as their Messiah and lead them into eternal and abundant life in God.
You make that possible in so many creative ways – through our Hear O' Israel! Festivals of Jewish Music & Dance, television and other media and Jewish Voice outreach programs. All allow our team to pray individually for people and introduce them to Yeshua.
With every gift you give to Jewish Voice Ministries, you are helping to support ALL of these various efforts to care for the needs of Jewish people around the world.