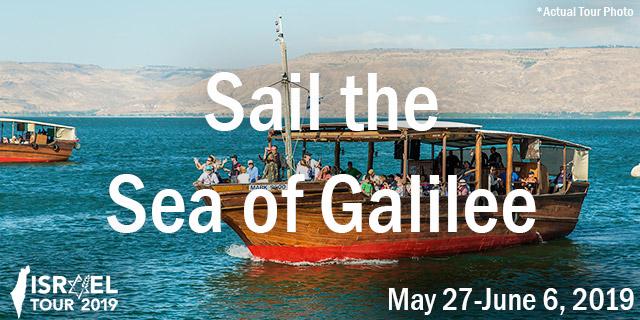 They didn't know what else to do. The disciples had seen the risen Messiah twice. But still, after giving up everything to follow Him for three years, what could they do now? They went back to the place where Yeshua (Jesus) originally found them and resumed what they had been doing then: They went fishing on the Sea of Galilee.
They didn't catch a single fish all night. At dawn, dejected, they headed back to the shore.
Then they heard someone shout from the beach, "Throw your net on the right side of the boat, and you will find some."
When the disciples did as instructed, the net was so full of fish that they couldn't haul it back into the boat. That was when John knew.
"It is the Lord!" he said. Peter jumped into the water. His heart still weighed heavy with his betrayal of Jesus, and he couldn't wait to see his Lord.
On the sandy beach of the Sea of Galilee, Yeshua cooked breakfast for His disciples and restored Peter with the commission to feed His sheep.
The Sea of Galilee featured prominently in Yeshua's life:
He spent his boyhood about 20 miles from its shores
When His ministry began, He called His first disciples from fishing its waters to become fishers of men
He calmed its angry waves one night and walked on its surface, inviting Peter to join Him
From a mountainside overlooking the Sea, Yeshua fed the 5,000 and, after healing the sick for three days on another occasion, He fed 4,000
The Sea of Galilee is one of many inspiring sites you'll visit on the Jewish Voice Ministries Celebrate Israel 2019 Tour on May 27‒June 6, 2019!
Join us on the Jewish Voice Celebrate Israel 2019 Tour and see the waters that surrounded Yeshua or so much of His ministry.
You'll also have the option to renew your marriage vows in a special ceremony aboard a boat as we sail the Sea of Galilee!