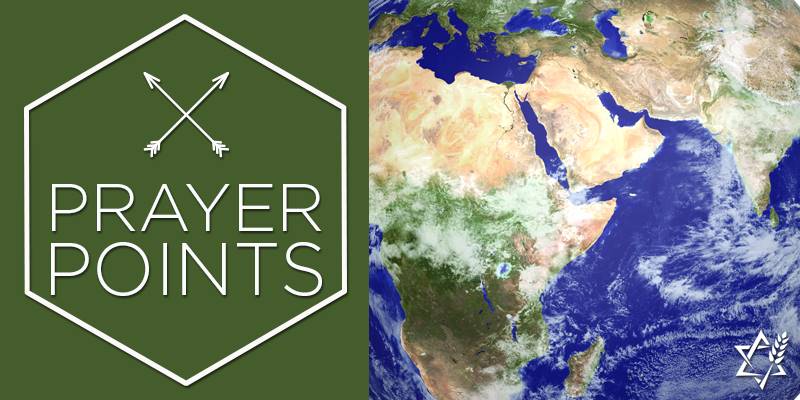 Here at Jewish Voice, the Lord is stirring our hearts towards the nations. That's nothing new, but He seems to be stirring us in a new way.
God is saying something about the nations! Who could have imagined, just a few short months ago, when He began to put this heightened burden on our hearts, what would be going on in the nations of the world today? The coronavirus pandemic has captured the focus of the entire globe and has touched nearly every country on Earth.
We believe that, as we press in and listen to God, we will receive expanded understanding and vision about how He might be calling us to be His instruments in this trying time.
One of the greatest ways to partner with Him in this is through prayer. We know that valued partners from many parts of the world read these Prayer Points. Let's lift up a unified cry of intercession from the nations for the nations.
Here are a few ways to begin our prayer journey to God's heart for the nations and peoples of the world:
Healing for the Nations:

Revelation 22:2 ­– There will come a time when this verse will be fully realized. Pray for the Lord's healing touch now around the world.

Leadership of the Nations:

1 Timothy 2:1–3 – Pray for the leaders of each country the Lord places on your heart during this time of crisis

The World's Citizens:

2 Peter 3:9 – God is not willing that any should perish but that all should come to Him.

The Body of Messiah:

Matthew 5:14–16 – Around the globe, Believers are holding fast to the Lord and literally singing His praises from rooftops and balconies. May we be as a city on a hill and light to the world.

Jewish People in the Nations:

Romans 1:16 – Estimates vary, but over half the world's Jewish population is outside Israel. Pray for their safety and that they would hear a clear witness of the Good News of Yeshua during this global pandemic.

The Land and People of Israel and the Peace of Jerusalem:

Psalm 122:6, Isaiah 62:6–7 – As always, our hearts and attention are on the birthplace of our Messiah and the place where He will return and reign – Israel. Now as never before, may we be "watchmen on the wall" praying for Israel, the Jewish people and their neighbors in the Land.
Let's pray:

Father, in this season leading up to Passover, we recall how You delivered the children of Israel. Stir our hearts to seek You in prayer for the deliverance of the Jewish people and all the citizens of the world. May all Israel as well as the nations realize their true Deliverer – Yeshua (Jesus) – has come! Thank You that in this time of global challenge and uncertainty, our hope in You remains the same, because You never change. In Jesus' name, AMEN.