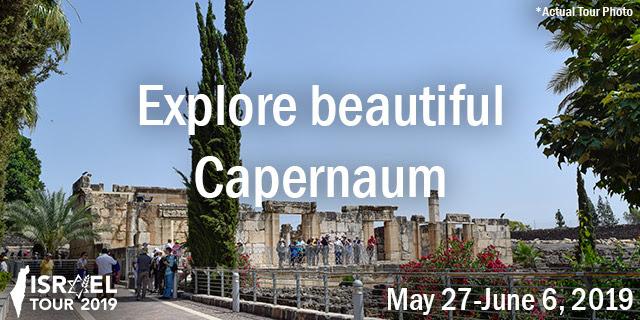 Capernaum was home base to Yeshua (Jesus). Much of His ministry took place in this seaside village on the northern shore of the Sea of Galilee.
In Capernaum…
… Yeshua astounded people in the synagogue as He taught with authority, unlike any Torah scholar they'd ever heard (Mark 1:21‒22).
… Four men lowered their paralyzed friend through a roof to present him to Yeshua for healing. Yeshua displayed His authority by both forgiving the man's sins and healing him (Matthew 9:1‒8).
… Levi the tax collector was called out by Yeshua, who dined in his home, invoking the Pharisee's criticism. Yeshua answered them saying, "I didn't come to call the righteous, but the sinful" (Matthew 9:9‒12).
… Yeshua raised Jairus' daughter from the dead (Luke 8:40‒41, 49‒56).
… The Roman Centurion understood the authority of Yeshua and trusted Him to heal his servant from afar, earning His praise (Matthew 8:5‒13).
… The demon in a man recognized Yeshua and shouted, "I know who You are! You're the Holy One of God!" (Luke 4:33‒35).
… Yeshua healed Peter's mother-in-law (Matthew 8:14).
… A woman who had been bleeding for 12 years believed that if she only touched Yeshua's garment, she would be healed. And she was (Luke 8:43-48).
Join us on the Jewish Voice Ministries Celebrate Israel 2019 Tour May 27‒June 6, 2019 where you'll visit Capernaum and many other inspiring biblical sites!
Come with us and experience:
The seaside village where Yeshua engaged in much of His ministry on Earth

The ruins of the Capernaum synagogue where He frequently taught

The extensive remains of what is believed to be Peter's home
 
And many more wonders of the Holy Land!
December Special: Register by December 31 to get a discount of $200 per person!