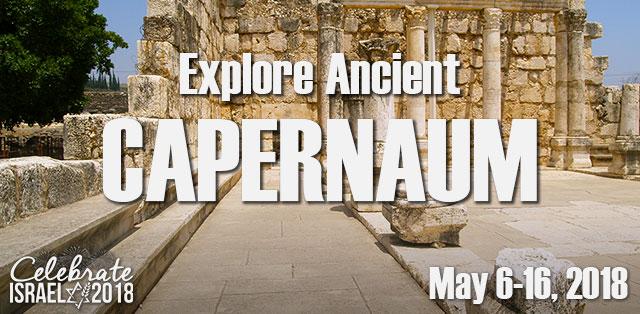 The village of Capernaum was home base for Yeshua (Jesus) during His earthly ministry. There, He marveled at the faith of the Centurion and then healed his servant from afar.
He taught with authority in the local synagogue, and the people were astonished.
It was here that He healed the paralytic whose friends lowered him through the ceiling. He first forgave the man's sins and stirred His audience to question how He could do that when only God can forgive.
In Capernaum, the demon in a man cried out to Yeshua, "I know who You are! You are the Holy One of God!"
Feel the breathless awe of walking where Yeshua walked!
Stand in amazement among the ancient ruins of Capernaum!
It's just one of many stops when you join us on the
Jewish Voice Celebrate Israel 2018 Tour
The Scriptures will come alive as you visit Capernaum and other biblical sites, including the Mount of Olives, the Sea of Galilee, the Western Wall, the Old City of Jerusalem and much more.
"Israel is a dream from the pages of the Bible that comes to life as you see your feet walk on thousand-year-old streets and place your hands on even older walls. Praying where Yeshua prayed, weeping where He did, you catch His heart and love for His people in the place where everything began."
–A. Smith
You'll gain treasured insights as Jonathan Bernis shares teaching from the Scriptures at the sites where these biblical events took place. Along the way, you'll also enjoy luxury accommodations and delicious local foods. We'd love for you to join us there.