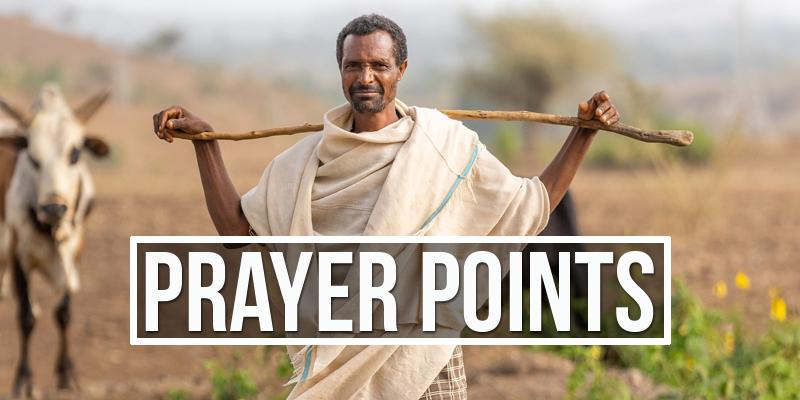 Eyes on Ethiopia
We are eagerly watching to see what the Lord will do in Ethiopia over the next few weeks. Our eyes are on three specific locations, and our prayers are focused there too. Will you join us in intercession, starting now?
Inchini, Ethiopia Medical Outreach, October 24–November 4
We have prepared a detailed, day-by-day prayer list and also a prayer schedule for you to cover the Inchini Outreach. This way, you can pray in specific ways and also sign up for a particular time to pray from home. We want to see this Outreach covered in prayer and showered with the Lord's blessings. In addition to the daily requests, here are a few more:
Since this is a new area for us, please pray for good relationships with the whole community, including leaders in every sector
We will be in an urban area where many people will be passing by, so pray they will be drawn by the Lord for treatment and spiritual encouragement
Pray that the advertising will be effective so that many will come right from the start of the Clinic, and that by the end of the week we will have served as many as possible
Pray also for unity, protection and energy for our team of staff, volunteers, medical professionals and local workers
Kechene, Ethiopia Specialty Clinic, November 3–8
This Specialty Clinic in Kechene will be run almost entirely by our local non-government organization (NGO) in Ethiopia and will be following back-to-back right after the Inchini Medical Outreach. We are so excited to see our NGO serving together in this way, but we know they need our prayers. Will you lift up this Clinic with daily prayer as well? Please pray for:
Our NGO team and a few JVMI staff members from the U.S. as they facilitate this Clinic
Those who come to receive care in the specialty areas offered: eye care, dental care, hypertension and any emergency cases
Ongoing good relationships in Kechene and the ministry of the Ruach HaKodesh (Holy Spirit) to flow freely
The Clinic to be a successful encouragement to our local team and a foretaste of ministry to come
Troubled region in Ethiopia and the Body of Messiah there
We have heard of unrest in one of the areas in Ethiopia where we have ministered. We have ongoing relationships with congregations and our brothers and sisters in Yeshua there. Please pray for:
Resolution to the unrest between tribal factions and for violence to cease
The Believers to be strong, full of faith, and eager to share the Good News
The Lord to protect and increase His work in these Believers and regions, for His Name's sake
Let's Pray:
Lord, 2 Chronicles 16:9 tells us that Your eyes move throughout the Earth to strengthen those whose hearts are fully Yours. Please strengthen the hearts of local Believers in Ethiopia along with our dedicated team members, volunteers and NGO staff there as they seek to offer love and care in Yeshua's name. May the Good News of the Kingdom be experienced, proclaimed and established! In Yeshua's name, Amen.