Will you pray for us as we go to Inchini, Ethiopia, for the first time? In just a couple weeks, Jewish Voice will be conducting a Medical Outreach there to bless the Gefat Jewish people and their neighbors. "Gefat" means "blowers" and is a reference to the story that centuries ago, when they came to the area, they blew the shofar as they traveled. May the Gefat people hear a sound in the Spirit like a mighty trumpet blast, calling them to come to the Clinic, receive care and life in the name of Yeshua, and worship Him.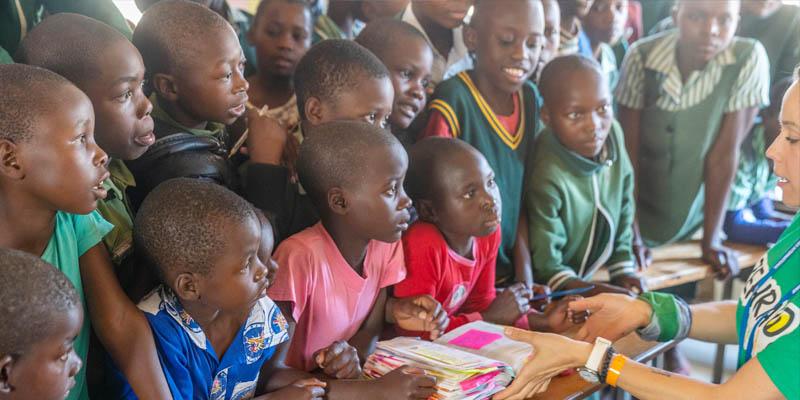 We can't say it enough: We need your prayers for each Outreach to be successful. Here are daily prayer points to help you pray in step with this strategic Outreach in Inchini. Please also consider being part of covering this whole Outreach with 24/7 prayer by taking a time slot to pray from home. Click here
Please pray day by day for:
Wednesday, October 16–Wednesday, October 23 ● Psalm 68:5
Our onsite team and U.S. staff working together on last-minute preparations for the camping site and Medical Clinic

Health and favor for our Outreach Partners as they prepare to leave home, work and family to serve in Inchini

The hearts of the people we are going to serve would be well prepared to come and receive all the Lord has for them
Thursday, October 24 ● Matthew 6:33
Safe travels for our Outreach Partners, easy transitions and all luggage to arrive at the same time and in perfect condition

Physical, spiritual, mental and emotional protection for all team members and their families back home

Favor for us with the local community and officials along with no disturbances or distractions all week
Friday, October 25 ● Isaiah 30:15a
Strong and supportive relationships with area churches and a positive spiritual climate for the spread of the Good News of Yeshua (Jesus)

The whole team of staff, volunteer partners and local workers to develop great unity and fellowship as they prepare to work together

A fantastic welcome meeting and Shabbat dinner as well as easy adjustments to new surroundings, time zone and food
Saturday, October 26 ● 1 Peter 3:11b
Safe and easy travel on the three-hour bus trip from Addis Ababa to the campsite where the team will stay for the week

Good communication and efficiency as orientations begin and set-up of campsite and Clinic are finished

Strength, anointing and faith during the   Spiritual Care Training today
Sunday, October 27 ● Proverbs 24:6
Seeking the Lord's counsel for an effective spiritual care strategy from the Lord, tailor-made for this location and time

Order, shalom and successful medical care and ministry as the Clinic opens at noon for a half-day

The prayer and fasting that preceded this Outreach to bear much fruit by God's grace
Monday, October 28 ● Galatians 5:22-23
A powerful and energizing time early each morning as the team prays and hears a devotional together

The fruit and gifts of the Spirit to be manifest and flow freely throughout the Clinic and surrounding area all week

The goodness of God to set ambushes against the enemy as His people praise Him
Tuesday, October 29 ● Colossians 1:12-13
A profound atmosphere of worship and praise to burst forth even without a formal worship leader for the Outreach

A beautiful and refreshing worship and prayer time Wednesday evening with the local congregation

The Kingdom of Light to be manifest in this region and the kingdom of darkness pushed back
Wednesday, October 30 ● Genesis 12:3
The evangelical Believers in the area to receive a fresh understanding of God's heart for the Jewish people and be blessed themselves by His ministry to them through us

A great relationship with the large Messianic congregation with which we are partnering

No interference of any kind
Thursday, October 31 ● Mark 7:37
The ability to see and treat as many patients as possible before the Clinic closes Friday around noon, and for God to work in and touch those we cannot see

Safety wrapping up the final details of the Outreach and shalom during the paying of local workers

Spiritual and physical energy to faithfully love and serve each one who comes to us through the last day of the Clinic
Friday, November 1 ● Psalm 126:3
The Lord to bring miraculous healing and the ministry of His presence to all in need as the Clinic closes

Safety taking down and packing up the campsite and Clinic as well as a safe 3 hour-bus trip back to Addis Ababa

A joyous and restful Erev Shabbat dinner at the hotel together
Saturday, November 2 ● 1 Corinthians 16:9a
Open doors to ongoing ministry in Inchini

A wonderful day of unity, celebration and relaxation for all team members as well as a powerful testimony meeting giving glory to God for all He has done this week

Safe return travel home, integration back into everyday life, and a renewed sense of purpose in light of God's work on behalf of His people
Sunday, November 3 ● Isaiah 52:12
Favor and diligence as the local congregation follows up with those who came to the Outreach and wanted to connect

A small, specialty eye and dental Clinic we're conducting in Kechene, Ethiopia, the following week – and for members of our local NGO and U.S. team who will be staying to facilitate it

The fragrance of Messiah to remain and the Good News to flourish among the Jewish people and their neighbors in both locations
Let's pray:
Father, we are excited to partner with You through care, ministry and prayer for the Gefat tribe of Inchini, Ethiopia. May Your presence be experienced as healing and new life in Yeshua comes forth. We are trusting You to help us do what we can and to do the things that You alone can. Bless the people of Inchini and Kechene with Your touch and Good News! In Yeshua's name, Amen.