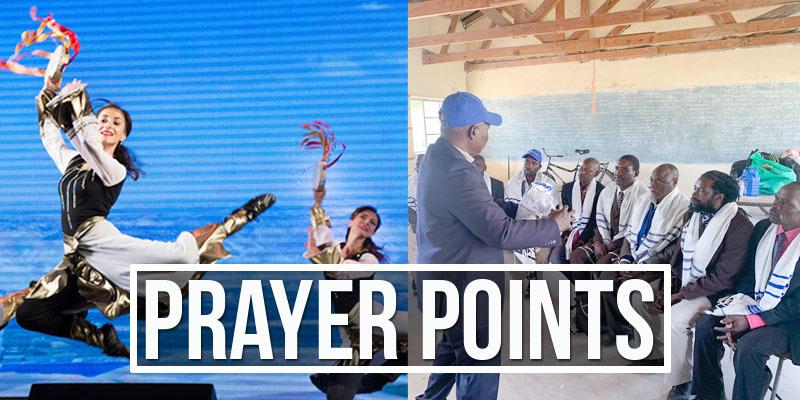 Q: What do a music festival and a discipleship program, each sponsored by Jewish Voice, have in common?
A: They will both be taking place around the same time in December, continents apart. AND we value your prayer cover for both!

DISCIPLESHIP TRIP, December 8–22:
Our ongoing ministry in Africa includes not only Medical Outreaches, but also growing the Messianic Jewish communities of Believers there. This year, in addition to the congregational visits and leadership conference last spring and summer, we will have our first-ever discipleship training for a small core group of Messianic congregational leaders.
Please pray:
For our US team member who will be traveling alone and doing all the training himself.  May the Lord be his constant companion as well as go before him and be his rear guard!
For health, safe travels, smooth connections and all luggage arriving on time and intact as the schedule and transitions will be very tight
For the training sessions to be from the Lord and hit the mark
For wisdom, discernment, prophetic insight, teaching anointing and the ability to address any questions
For all the leaders' ability to absorb what they learn and then effectively disciple others in their congregations
For the entire trip from December 8–22, and especially for the key training dates of December 10–12 in Zimbabwe, and December 16–18 in Ethiopia.
HEAR 'O ISRAEL! FESTIVAL OF JEWISH MUSIC & DANCE IN POLAND, December 13–23:
We have had a sense that this year's Festival would be different from previous ones and along with that, needing an even greater level of focused prayer cover. Please begin praying now and watch for more in our December 11 Prayer Points.
For now, please intercede:
For unity and shared vision from the Lord for both our JVMI team and the church in Poland with which we are partnering; and for all the preparations for this immense and significant event
For the Lord to prepare the way spiritually for the work He wants to do there through us
For the Holy Spirit to draw many people to come to the Festival and be deeply impacted
For Gentile Believers in Poland to receive revelation regarding God's heart for the Jewish people
For Jewish people to gain deeper understanding of their heritage and identity and the relationship with God available through Yeshua, their Jewish Messiah
For Believers with Jewish backgrounds to fully embrace and integrate both those aspects of who they are in Yeshua
For the Lord Himself to shift the landscape in Poland as we trust Him, serve Him and follow His lead
Let's pray:
Lord, from the African Discipleship trip led by one individual leader, to the Festival in Poland requiring a team of hundreds, You are opening eyes and hearts to know and serve You.  Yeshua is the way by which You are known! May He be proclaimed, revealed and received through both of these opportunities.  Our hearts are crying out to You to have Your way and do Your will, calling many to Yourself and impacting Nations. AMEN.