In 2012, Jewish Voice Ministries took their Medical Outreaches to a new country in Africa and conducted their first Clinic in Zimbabwe.
When they learned of the Lemba people, it was clear they had to bring them help. The Lemba are a group who has for centuries strongly identified themselves as Jewish and bear clear ties to the ancient Jewish people, particularly the Levites.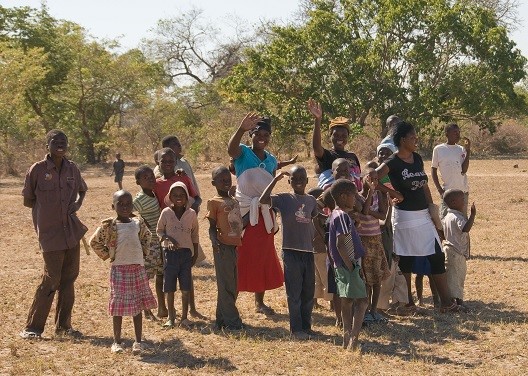 Jewish Voice's Outreach to Mberengwa, Zimbabwe, was the most rural undertaking in the ministry's history. The people there often have to travel for hours to receive even basic medical care. This remote setting created new logistical challenges, the biggest being that there was no nearby city that could provide adequate housing for the team. As a result, the trip to Mberengwa became JVMI's first camping Outreach.
Typically, a Jewish Voice Medical Outreach sets up around an existing local medical clinic or facility, adding much-needed space by erecting event tents to create room to treat thousands of patients in just five days.
For Mberengwa, JVMI's Africa staff not only constructed the Clinic compound but also created a temporary campground to house the team for the week. They set up large tents with heavy-duty tarp flooring where Partners pitched their own individual camping tents. The compound also included men's and women's restroom and shower facilities along with kitchen and dining tents.
Each morning, on their way to the clinic site, the team shared the road with men driving donkey-led carts, women bent over with bundles of kindling strapped to their backs, and girls balancing buckets of water on their heads.

By the end of the week, the team of doctors, nurses, dentists and other medical professionals had treated 7,117 patients. They distributed 1,209 pairs of eyeglasses and performed 33 eye surgeries. The prayer team ministered to nearly 6,000 people with more than 5,700 professing faith in Yeshua.
That first Clinic launched an explosion of new Messianic Believers, leaders and congregations among the Lemba. Jewish Voice was on track to return to Zimbabwe in the following years with more Medical Outreaches, expanding to new regions and reaching new communities of Lemba with the Gospel and vitally needed humanitarian aid.
--------
Join us on the Jewish Voice Blog each month in 2017 as we unfold the Jewish Voice story and show how two ministries with the same heart merged and became Jewish Voice Ministries International as you know it today.
Check out Flashback Fridays on our Facebook page, where you'll see glimpses of our 50-year journey.
Discover the entire inspiring JVMI story with our beautiful, full-color coffee table book, Jewish Voice: A Look at 50 Years. Through more than 200 photographs, it chronicles 50 years of ministry, including biographies, stories and reflections from television guests, partners and staff.
Previous JVMI 50th Anniversary blog posts:
The Early Years – Jewish Voice Broadcasts
Meeting, Partnering, and Merging
Jewish Voice Ministries International