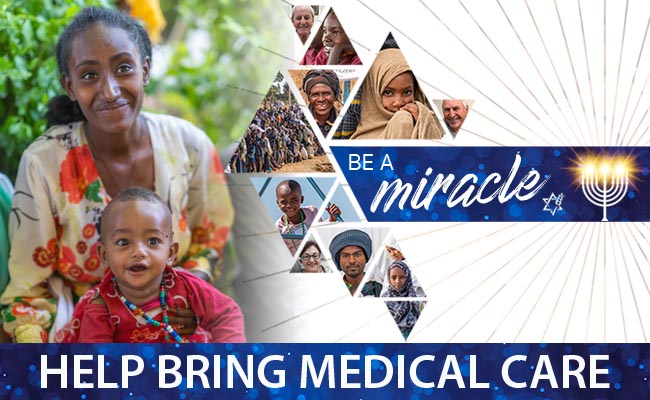 Through God's provision, more than 91,000 people received physical healing and spiritual hope this year through the Outreaches of Jewish Voice Ministries International. These are individual people with real needs that God met through the work He has called us to do. And we are grateful to Him.Here are a few highlights of what God did in 2019:

In Ambo Meda, Ethiopia, by God's grace, He enabled us to treat more patients in a five-day Medical Clinic than we ever had before, changing 17,878 lives in Ambo Meda. We also met a woman who had been covering a severe wound with her dusty headscarf. She received care and antibiotics that likely saved her life, and she learned how to keep the wound clean.

In Masvingo, Zimbabwe, God enabled Jewish Voice and our partners to provide medical, dental or eye care to 12,593 people. He also gave encouragement and hope to 2,041 people through their time in the Spiritual Care Ministry. One of them was a woman in such severe knee pain she couldn't work the garden that feeds her family. In the Spiritual Care Tent, she heard the Gospel and received prayer for healing. The next morning, she awoke pain-free and returned to the Clinic to accept Jesus as her Messiah.

In Kechene, Ethiopia, God brought us a little girl who has autism – a diagnosis the grandmother caring for her had never heard before. After learning a simple calming technique for the girl, Grandma went away with new hope for her granddaughter. God made it possible for 13,005 patients to receive treatment on that Outreach. Later in the year, He allowed us to return to the people of Kechene to conduct the first Clinic run entirely by our local NGO team, who treated more than 8,800 patients.

In Mberengwa, Zimbabwe, God enabled us to hire enough local workers to make the Outreach a success. Local workers play an indispensable role, fulfilling a myriad of Outreach positions, including communication. Much of Mberengwa's population is elderly, and the hiring process blessed many of them. They worked hard and were delighted to help serve 10,631 of their neighbors during the Clinic.
Your generous support helps make these outreaches possible. As we anticipate the work that God will do through Jewish Voice, please consider partnering with us, and giving a special year-end gift.
In Gutu, Zimbabwe, God changed the life of a woman who visited the Spiritual Care Tent. She wore a beaming smile because she had come to the Gutu Clinic three years ago when she was blind, and God had restored her sight through prayer. This time she sought intercession for an injured leg. Once again, God moved, and she left dancing. God also enabled our medical teams to provide 12,948 people with much-needed care that changed their lives.
In Inchini, Ethiopia, we discovered a large number of Believers – both Jewish and Gentile – with an incredible hunger for God. He brought to us a 99-year-old woman holding a Bible. Her body was tired and wearing out, and she needed encouragement. When team members shared with her that God promised we would all receive new bodies someday, her face lit up, and she shouted "Hallelujah!" She waved her Bible in the air, rejoicing. It is a Bible she has carried for years even though she cannot read. She knows it is God's Word, and she cherishes it. God also made the way for us to provide clean water to the people of Inchini through the distribution of 5,275 Individual and 148 Family LifeStraw® filters.

In Israel, God showed 296 Holocaust survivors that He has not forgotten them. By His work through Jewish Voice, they received extensive dental work – at no cost – to improve their lives and return their smiles. Another 604 received eyeglasses and clear vision. These gifts changed their lives.

In Zimbabwe, God revealed His love to 4,726 children who participated in the Zehra Kids Program offered onsite at the Clinics and in nearby schools.

In all, God enabled Jewish Voice to touch 91,633 lives with medical, dental or eye care in 2019. He restored eyesight to 559 patients blinded by cataracts. Thousands received prayer, encouragement and spiritual healing, and more than 750 people came to faith in Yeshua (Jesus).
He is moving in the city of Warsaw, Poland even now as we conduct an International Festival of Jewish Music there.

2019 has been a powerful year, and we are grateful for all God has done. He works through ordinary people like you and us to save and change lives and extend the Good News of Jesus.
If you are able, please consider partnering with us to continue in sharing God's love and the Good News of Yeshua to His people in 2020. Your generous support helps make these outreaches possible, so we are praying that you would consider giving a special year-end gift as we anticipate the work that God will do through Jewish Voice in the new year.