The Shona word chitsungo means "motion," and as we head to Chitsungo, Zimbabwe, we are praying for motion – the kind of movement that can only come from the Lord.
Join us as we pray for a mighty move of God in this rural area which is a brand-new location for one of our Medical Outreaches. We had hoped to minister to the people of Chitsungo in 2017 but the roads proved too difficult at that time. Now, the way is clear for us to serve the people of Chitsungo, and we are ready to get things moving so we can minister there!
As you know, in spite of our preparations, every aspect of this Outreach needs to be covered in prayer. You can have an impact during this time of concentrated ministry through your prayers. Please sign up for a time on our Outreach Prayer Calendar here. Following are daily prayer requests to fuel your intercessions before, during and after the Medical Clinic.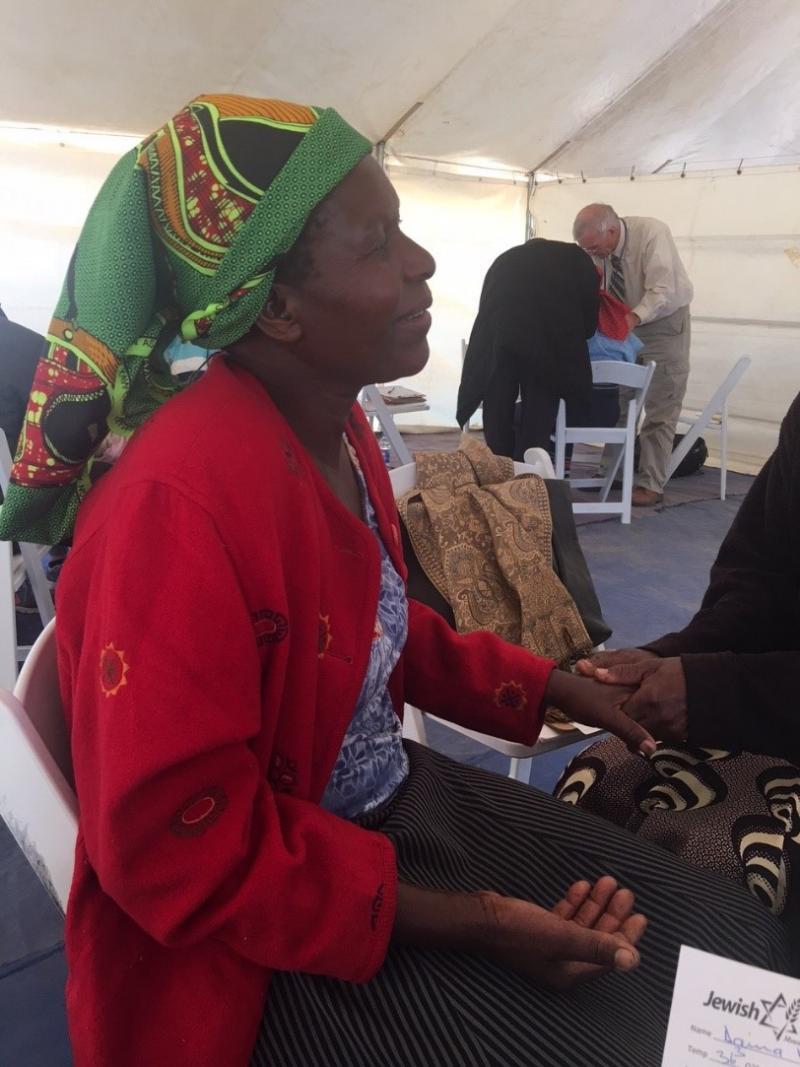 Thank you for joining us in asking the Lord to move in Chitsungo, Zimbabwe!
Wednesday, April 11 – Wednesday, April 18: 1 Corinthians 16:13
Good health and safe travel for our "early team" which arrives ahead of time to prepare the way
 
Team unity, bonding and great morale among staff members, team leaders and local workers
 
Wisdom and ease in every aspect of set-up as new locations for us can create unexpected challenges and opportunities

 
Thursday, April 19: Ephesians 2:10
·Great travel, smooth connections and all luggage to arrive with our Outreach Partners
 
 Protection for all team members and their families while they are overseas
 
 God to spiritually prepare and confirm each team member for their valuable role in this Outreach, using dreams, visions and the promises and assurances of His Word

 
Friday, April 20: Romans 15:5-7
A welcoming and unifying first evening together as the team shares a Shabbat dinner
 
Good rest and sound sleep tonight and through the week along with ease in acclimating to the time change
 
Health of mind, body and soul all week that will equip each team member for the rigors and rewards of ministering to the people of Chitsungo
Saturday, April 21: 1 Peter 3:15
A smooth and safe set-up of the campsite as well as a clear Camping Orientation for all Outreach Partners
 
Safe travel between campsite and Clinic each day
 
Unity of purpose and preparation during the Counseling and Prayer Team Orientation enabling them to see many salvations and much healing and deliverance all week long
Sunday, April 22: 1 Peter 4:10-11
 Clarity of communication and comprehension during the Clinic Orientation today
 
 Every person to know and understand their role and operate in both the fruit and the gifts of the Ruach       HaKodesh (Holy Spirit) during the Outreach
 
 Readiness to minister and serve as the Clinic is officially opened for the second half of the day
 
 Effectiveness in each area of care, including medical, dental, vision, and pharmacy


 
Monday, April 23: Psalm 91
Favor with all authorities, neighbors and visitors to the Clinic – may they be amazed at the love and ministry of Yeshua and come to Him themselves
 
Cloud cover, cool breezes and mild temperatures to overcome the seasonal heat
 
Psalm 91 protection against every form of harm, illness or problem, including spiritual attack

 
Tuesday, April 24: Jeremiah 29:12
Good engagement with the Lord during the daily morning worship and prayer times such that it lifts the level of faith and sets ambushes for the enemy
 
The Wednesday evening worship time to do the same and also energize everyone to finish the week with great passion and compassion
 
The counseling and prayer tent to be a place where Heaven touches earth and hundreds upon hundreds meet with Yeshua, their Savior, deliverer, healer and Messiah

 
Wednesday, April 25: 2 Corinthians 4:1
 Any opposing forces in the area, spiritual or otherwise, to bow the knee to the King of Kings, that light would overcome darkness and transform the region
 
The Zehra Kid's Program to be fully and effectively staffed and able to bless not only the many children but also families and generations in Chitsungo through love and sharing Yeshua
 
The water education and LifeStraw® program to bring understanding and health to Chitsungo

Thursday, April 26: Romans 10:14-15
Key individuals to come to Yeshua this week and become leaders and influencers for the Kingdom
 
The building up and edifying of local Believers
 
New Believers to embrace and quickly comprehend the revelation of Yeshua through our teaching and discipleship materials
 
Friday, April 27: Philippians 4:4
Order, safety and shalom while breaking down the campsite in the morning and closing the Clinic later in the day
 
All who were seen, and all who weren't , to know the ongoing presence of Yeshua as manifested in their lives through salvation and healing
 
An evening of great joy at all the Lord did through each Partner along with an amazing time of Shabbat celebration together

 
Saturday, April 28 – Monday, April 30: Psalm 128:1-2
A wonderful day enjoying God's creation and well-deserved "free time" on Saturday, plus a glorious testimony time on Sunday
 
Health, rest and safe travel during the weekend and all the way home
 
Protection and stamina for our team members who will remain in-country attending to final details
 
The ongoing and sustained movement of the Lord through His Spirit in Chitsungo, building momentum after we have gone

 
Let's pray: Father, we can travel from continent to continent to bring the Good News, but unless You move on the hearts of men, women and children, our efforts will have no effect. Please Lord, move in Chitsungo to open the region to the Kingdom of Light, bringing a wave of healing, deliverance and salvations like never before. In Yeshua's name, amen.