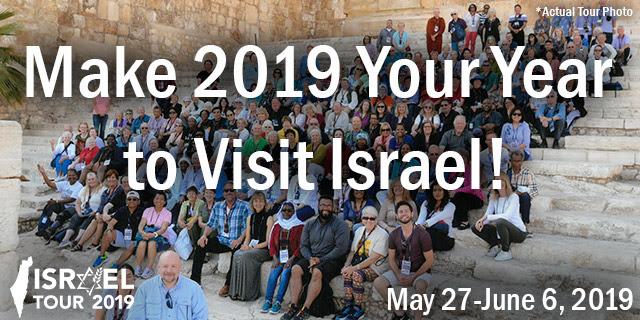 Celebrate a special holiday or anniversary with this trip of a lifetime!
Experience the wonder of the Holy Land!
There really is nothing like it. When you visit Israel, it awakens something in you that deepens your faith and feeds your spirit.
You'll stand in ancient places described in the Bible, walk where Yeshua (Jesus) walked, and see unearthed artifacts and architecture.
"I was amazed at how many archaeological sites there are. There is so much evidence for the Bible! The Bible is not just a storybook; it's our history. I was fascinated and blown away by the evidence that's been discovered!" ―Nelson
On the Jewish Voice Ministries International Celebrate Israel 2019 Tour you'll visit biblical sites such as:
The Sea of Galilee
Jordan River
Capernaum
Mt. Carmel
Megiddo
Garden Tomb
Upper Room
Western Wall
And so much more!
You'll also enjoy our:
Expert tour guides
"The guides really gave us a sense of what it was like to live back then." ― E. Nevitt
Teaching about the sites from a Messianic Jewish perspective
"I loved the teachings, and I learned a lot through Jonathan Bernis, Ezra and Rabbi Jack." ―Dan
Small group feel
"Although there may be a couple hundred people on the JVMI tour in total, you go to every site in your smaller bus group of about 40-45 people. You develop amazing bonds with each other. Some participants formed lifetime friendships.           
"The level of intimacy you experience with people you've just met is extraordinary. Everyone truly cared about one another, looked out for each other, prayed for and with each other. There's such a unity in the Spirit."―Ellen
Four and Five Star accommodations
"The hotels and meals were great with a wide variety of food choices." ―Jennifer
So, what's holding you back?
"Just go for it! In Israel, you'll encounter a holiness that you won't experience anywhere else!" ― P.J.
"If you want to experience God in a greater way, you have to go!" ―E.N.
Discover Israel first-hand when you experience the  Celebrate Israel 2019 Tour May 27‒June 6, 2019