FINDING AN OASIS OF UNITY IN A LANDSCAPE OF CONTENTION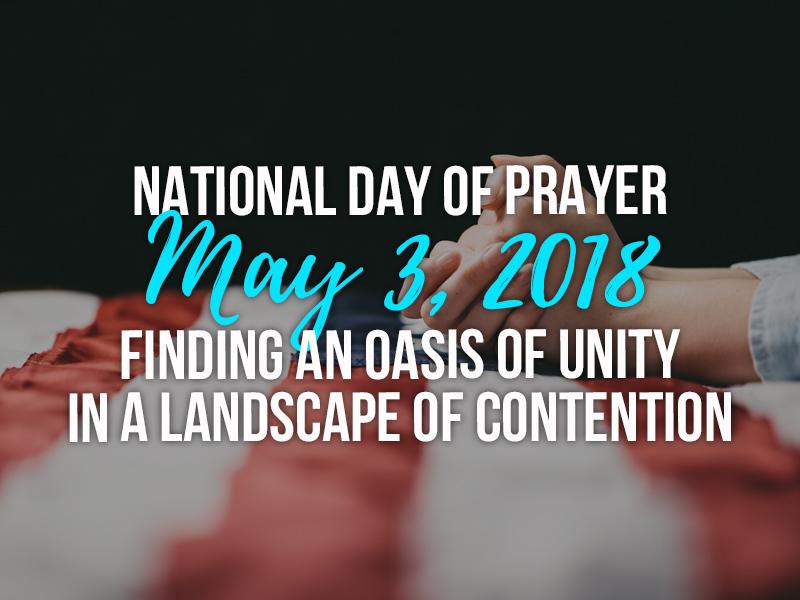 Think about your interactions with others during the past week or month. Chances are – whether in a meeting, at a gathering or on social media - at some point, you witnessed a disagreement, maybe even a vehement one. We are barraged by an array of opinions, images, headlines, hashtags and sound bites – and they all seem to be at odds with one another.  
Having different opinions or beliefs is not wrong in itself, but we are living in contentious times when even the Body of Messiah is infected with disagreements and disparaging words. When a physical body and its various members are similarly out of alignment, we call it disease.  How should we view relational misalignments?\
The pervasive disunity in our nation, especially among the people of God, is no doubt a motivating factor in the selection of Ephesians 4:3 as this year's National Day of Prayer key verse and unity theme.
Believers become a unified entity, one body, not simply through a consensus of opinion, but by the indwelling of the Spirit of God when we are born again. We are the body of Messiah, each one a "member." The Head is the Messiah Himself, Yeshua (Jesus). In Him, we are one despite our many differences. What would change if we truly believed that? 
If we are going to operate in unity during these challenging times, we need to be of one mind – the mind of Messiah. What a difference we could make as Believers if we all prayed together according to the mind of Yeshua! What unity we'd experience as we pray for His Kingdom to come and God's will to be done.  
The confusion and clamor around us should drive us to our knees – together. On this National Day of Prayer, let's come into agreement and intercede as one for greater unity. In the presence of the Lord, we can find peace and power in prayer that will change our families, communities and country.  May our prayer times with one another become an oasis of unity in a landscape of contention. 
Here are a few Scripture-based prayers that we can agree about and pray together – on the National Day of Prayer and every day:
Lord, prepare my heart to call on You in prayer. Your Word says You hear the desire of the humble. I humble myself before You, knowing You will hear my prayer (Psalm 10:17 NKJV). 

Turn the hearts of all Your people back to You, Lord. May we who identify ourselves as belonging to Yeshua humble ourselves, pray, and seek Your face – today and every day. You alone can forgive our sin and heal our land (2 Chronicles 7:14).

I pray for myself and my brothers and sisters around the nation and world, that we would be "of the same mind, having the same love, united in spirit, with one purpose" (Philippians 2:2).

Where we have allowed worldly affiliations to separate us into angry camps of opposition, Lord, draw us back to You first and foremost, and then back into humble fellowship with one another. May we as Believers trust You as Victor and cease striving with each other (Joshua 5:13–14). 

Lord, following Paul's urging in 1 Timothy 2:1–4, we pray for our nation's leaders. We ask that you give them godly character, wisdom and discernment, and surround them with wise advisers. Please reveal Yourself to them and, if they already know You, help them know You better. Father, where opinions on our nation's leadership or policies have caused the body of Messiah to divide, may the mandate of these Scriptures cause us to come together in intercession.  

We press into You, Lord, for Your solutions to our problems. May we ourselves and our local and national leaders serve You with fear and celebrate Your rule with the awe and honor that is due You (Psalms 2:10–11).

Lord, since it is You who makes nations great and pulls them down, have mercy on us. Make Your name great in our nation. May we pursue You and walk in Your ways. We desire only Your honor and renown (see Job 12:23; Isaiah 26:8).

May the Believers in our nation be unified in a passion to see the fulfilment of Revelation 7:9-10 – a heavenly chorus of those redeemed from every tongue, tribe and nation, worshipping our great God in unison. 

Lord, help us to be diligent in pursuing the realization of the One New Man. It is another expression of unity that only comes through You. We pray that Jewish people in our nation, Israel and the world will be saved, as well as Gentiles. May Gentile Believers come into a full understanding that they have been grafted in. As a result of that revelation, may they be motivated to love, serve and work in unity with their Jewish brothers and sisters in our nation and around the world. (See Ephesians 2:14–16.)

Lord, according to Ephesians 4:3, we commit to make every effort to keep the unity of the Spirit through the bond of peace. We will work toward reconciliation of all kinds and the restoration of all things. As we seek You for our nation, may we remember that we are already citizens of a Kingdom that will never end. 
Please join is in a closing prayer for unity:
Lord, I pray that today we will be encouraged and energized by a new vision of what unity is and is not. Not agreement over policies or personalities, but unity that is born of the Spirit and expressed through so that all may know salvation through Yeshua. In this landscape of contention in our nation and world, may we, as brothers and sisters in the Messiah, find an oasis of unity in gathering together in prayer centered on You. In Yeshua's name, Amen. 
If you live in the Phoenix area, we invite you to join us at Jewish Voice headquarters for our May prayer evening, on the National Day of Prayer, Thursday, May 3. Click here for more information.