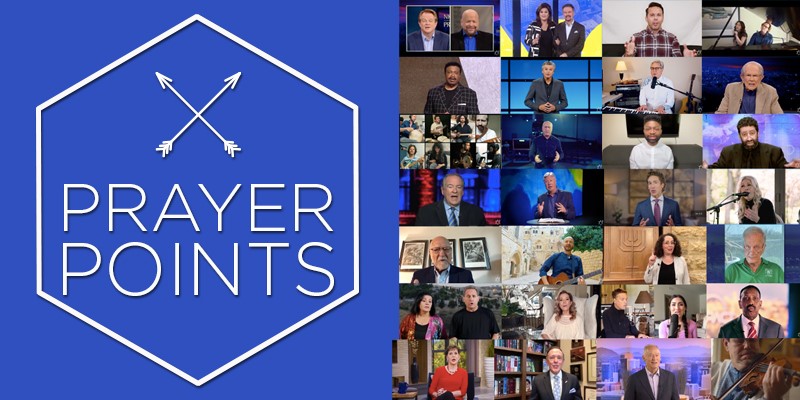 In our last Prayer Points, we asked you to pray for our NIGHT OF PROMISE event, which premiered May 29. At that time, we were feverishly completing last-minute details and eagerly anticipating what the Lord would do through this special broadcast.
Now we want to bring you a brief update on this wonderful event so we can praise the Lord together. We will also include some ongoing requests around which we can unite in further intercession as we move ahead.
PRAISES:
We have heard great feedback from those who watched NIGHT OF PROMISE during its original airings and since, saying it was meaningful, encouraging, and, in the words of several viewers, "just what the world needs at this time"
Many mentioned they were grateful to view the program and wished everyone would take time to watch it
There was tremendous unity as so many key representatives from various "streams" within the Body of Messiah all came together with messages of hope, God's heart for Israel and the Jewish people, and confidence in the Lord during this Pentecost season
All our many technical aspects came together in time and went smoothly – a huge blessing
As people checked in on social media to say where they were watching from, we saw a global audience
There was a wonderful response of financial support, 100% percent of which will go to meet the needs of Israelis in this challenging time
"REAR GUARD" PRAYER REQUESTS for:
Each person who participated in this project through speaking, sharing, contributing musically, and working behind the scenes
Ongoing impact in the lives of those who watched – that they would continually live out the encouragement and inspiration they received
Many others to watch NIGHT OF PROMISE online so its impact will spread and grow throughout the Body
Growing contributions to help more Israelis in practical and meaningful ways
Breakthrough for the Church in understanding Messianic Jewish Believers, their work and global impact
Each leader who contributed a message to NIGHT OF PROMISE ­ that they, and those in their spheres of influence, would continue to be moved and unified around God's heart for Israel and the Jewish people
Lord, we owe all honor and glory to You for the NIGHT OF PROMISE – for the vision You gave for it, Your favor in bringing it to pass, and how it engaged, unified and encouraged viewers around the world. Please help Your Body to understand Your heart for Israel, Your unique purposes for Jew and Gentile, and Your call for us to come together in unity. May the Jewish people of Israel and their neighbors be blessed as well as all who view this program. All for Your glory and in Jesus' name, AMEN.