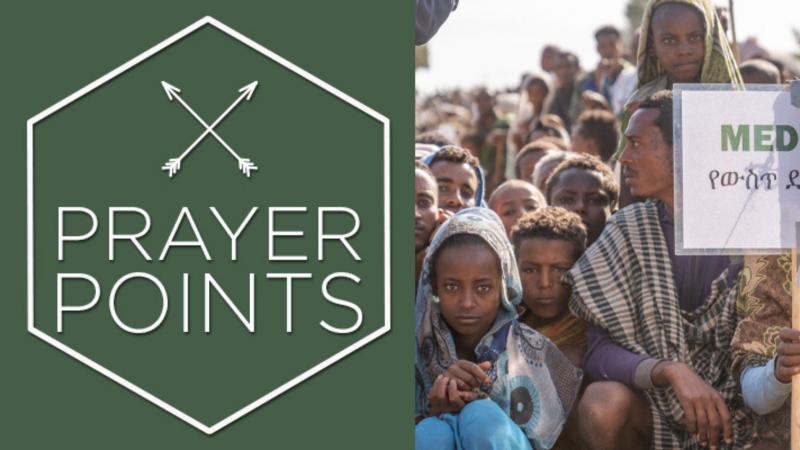 We are inviting you to pray for some key strategic issues regarding our upcoming Outreaches this fall. Amid a global pandemic and unrest in many nations, we are acutely aware of the need for God's favor, guidance and divine assistance in everything.
Our scheduled fall Outreaches are particularly in our prayers right now. We need God to open doors to countries and keep them open before us so we can bring the life-giving Good News to those who desperately need it. Will you join us in interceding as we prepare to reach out?
Please pray for our October 22–November 1 Outreach to Ethiopia. Due to unrest earlier this summer in the area where we had hoped to go, we are moving this Outreach to a new region – the "Southern Nations" region of Ethiopia. Please pray for:
Finalization of plans and that all elements fall smoothly into place
Ethiopia to stay open to international travelers and favor regarding any COVID-19 restrictions or regulations
The Lord's help in stewarding this new opportunity as we minister in a different region to a different Ethiopian people group – the Dawro people
Please also pray for our October 29–November 8 Outreach to Garamwera Buhera, Zimbabwe. As you can see, it overlaps the Ethiopia Outreach. Core members of our Global Outreach team will need prayer for stamina as they may be serving in both. Also pray for:
Zimbabwe to reopen to international travelers on October 1 as is currently scheduled
The Lord's favor and timing regarding any possible quarantine, testing or other regulations for those coming in from outside Zimbabwe
Wisdom for any other potential Outreach opportunities in Zimbabwe this year
As we approach the final quarter of this year and look toward 2021, we need ongoing wisdom regarding the type of Outreaches to hold as we consider COVID-19 and other factors. Also on our hearts are our many faithful volunteer Outreach Partners. Some are eager to rejoin us in the field again in the future, while others are facing difficult health, business and financial circumstances this year. Our thoughts and prayers are with them all.
Let's pray:
Father, we seem to have entered a new era – along with the rest of the world. We are so thankful that You never change, and Your mandate upon this ministry has not changed either. We are excited to share the Good News of Yeshua (Jesus) with Jewish people and their neighbors whenever, however, and wherever You send us. We ask You to open doors for fruitful, effective and lasting ministry. We look to You to give us favor with governments, to prepare the soil of people's heart for the seeds You want to plant through us, and to provide us with every form of protection mentioned in Psalm 91. You are doing great things and showing us how to partner with You in them. Blessed be Your name! In Yeshua's name, we pray. AMEN.