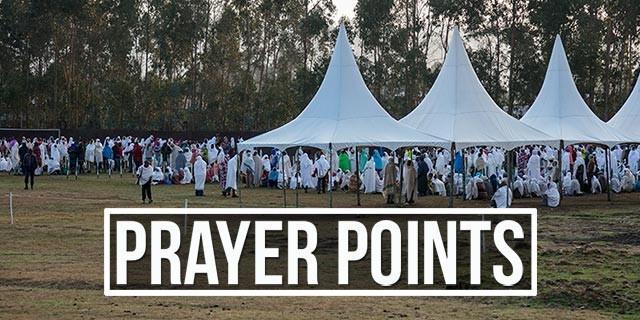 When the tents come down and our Medical Outreach Partners return home, Jewish Voice Ministries continues investing in the communities we serve. Because Outreaches result in many new Believers, it is vital that godly leaders are trained and equipped to disciple and lead new, young congregations. 
This ongoing training occurs through our Congregation and Leadership Development (CLD) department at our headquarters in the U.S. and includes weekly ‒ sometimes daily ‒ contact with local leaders in Africa.
Additionally, a critical component in equipping leaders is the annual Messianic Leadership Training (MLT) conference we hold in Zimbabwe and Ethiopia. These gatherings are an opportunity for Jonathan Bernis to have face-to-face interaction with both seasoned and emerging leaders in the areas where Messianic congregations are forming and growing.
Please pray for the following key elements of the upcoming training and equipping:
Jonathan Bernis as well as our Vice-President of Congregation and Leadership Development as he and others seek the Lord in order to be well prepared for these times of training
Foresight from the Lord to address leadership issues encountered during the year and discern what the Lord is impressing on our hearts for the next level of training and teaching 
Our team to be primed with a Word from the Lord for spontaneous interactions during their trips
The Lord to begin now preparing attendees' hearts to hear from Him during the training
The Word to not return void but accomplish everything the Lord intends
Safe travels, health, and protection for Jonathan Bernis, CLD staff members and several other fellow ministers of Yeshua traveling with them
Their families back home and also for the leaders they will encounter
Wisdom and discernment from the Lord regarding which leaders should become long-term partners
Times of personal ministry, whether to individuals or groups, to be accompanied by wisdom and prophetic insights
By the end of the Messianic Leadership Training in early September, approximately 200 leaders will have been equipped and called to a higher level of character and leadership. Let's pray!
Father, help us be diligent in praying according to Colossians 1:9‒10 for these trainings and especially for the leaders, asking You to fill them with the knowledge of Your will in all spiritual wisdom and understanding, so they will walk in a manner worthy of You, pleasing You in all respects, bearing fruit in every good work and growing in knowledge of You. In Yeshua's name, AMEN.
Partner with us to grow Messianic congregations around the world