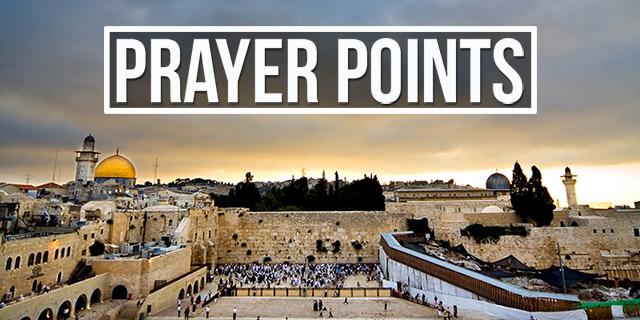 2017 held many noteworthy events, including President Trump's recognition of Jerusalem as the capital of Israel and his announcement that the United States Embassy will move there. One event in 2017 received less media coverage, yet created great joy for our ministry and partners: Jewish Voice celebrated our 50th anniversary.
In a recent talk, it was wonderful to hear Jonathan Bernis recount five decades of Jewish Voice seeing the Lord's faithfulness expressed time and time again. We have been privileged to watch Him grow this ministry, but more importantly, we've seen Him increase our capacity to fulfill the vision He planted in the hearts of our team over the years.
As we move into 2018, we invite you join us as we continue praying into the ministry God has called us to steward.
Our core purpose – the reason we exist as a ministry – is to transform lives and see all Israel saved.
Please join us as we pray:
Lord, thank You for the strategies, resources and partnersYou have given Jewish Voice. It is through them that You transform lives
Please continue to bless the work we offer to You – Medical Outreaches, Festivals, ministry in Israel, development of leaders and congregations, and production of life-giving resources
Extend our reach to the Jewish people and expand our influence. May we see many come to Yeshua in 2018!
As we end our 50th ministry year – our jubilee – Lord, release us from anything that is not of You. Release us INTO all You have for us in serving the many You have called us to serve in 2018
Give us the ability to hear You well. Grant us Your favor and effectiveness in targeting the areas You most desire us to address this year
Lead us into new relationships and partnerships with people who will join us in prayer, resources, and hands-on help in reaching Jewish people and their neighbors
Lord, we ask for special grace this year as we continue to engage the Church regarding Your heart and plans for Israel and the Jewish people
Lord, we thank You with all our hearts for the wonderful partners with whom You have connected us. We know that they have a deep longing to see lives transformed and all Israel saved. As they seek Your face, do Your will and bless Your people, please bless them this year. Grant them their hearts' desires and answer their prayers. Together we long for and look to You! In Yeshua's Name, Amen.
Start 2018 by helping to transform lives …