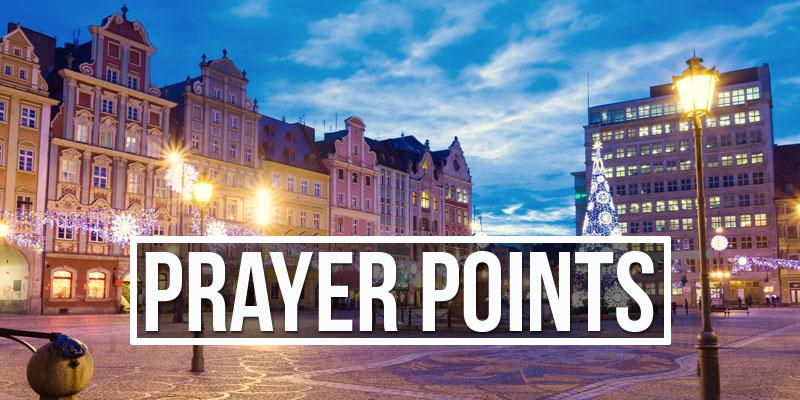 We are expecting the Lord to do great things during the Poland Festival of Jewish Music. May this nation be open as never before to the Gospel of Jesus and God's heart for the Jewish people.
Please sign up here to pray from home as we really need day by day round-the-clock prayer covering.
Please pray for:
Wednesday–Saturday, December 11–14 • Travel, Anointing and Unity
Health and protection throughout the Outreach in Poland, and smooth travels
Unity for all members of this huge Festival project – involving literally hundreds of people
Great anointing, vision and stamina for Jonathan Bernis, our Festival Producer; and the Lord's help and favor for our Festival Event Director and Festival Operations Manager
Our Partner Engagement and Group Logistics Managers as they interact with and oversee arrangements for partners and teams
Sunday–Thursday, December 15–19 • Rehearsals, Preparation, Prayer and Street Teams
Prayer, wisdom, strategies and, above all, love, enabling us to navigate the many spiritual and cultural dynamics in Poland
The Lord to prepare hearts and the spiritual atmosphere for the miracles He will do
Our Prayer Room Manager/Trip Chaplain from the U.S. as well as the Polish Messianic couple – leaders of a small Messianic fellowship there – who are assisting him
Blessing for the partnering church in Poland, and its members, as they work with us to bless the Jewish people and bring the Good News to their city
Anointing and effectiveness for all our Outreach Partners, including the team Worship Leader, Group/Stage Management partner and the volunteer who is directing the Street Outreach, Usher and Altar Ministry elements
Festival performance rehearsals that have been going on since earlier in the week: for every detail and person to be used by the Lord to capture people's attention and direct them to Jesus
The presence of the Lord to push back any distractions or disturbances so the love of God through Yeshua can be fully experienced and known
Friday–Sunday, December 20–22 • Performance Days
God's powerful anointing – that reaches the heart of every person present through the Holy Spirit – on Rabbi Jonathan Bernis as he speaks during each performance
Each performance to go forth with power, and may the Holy Spirit reign and move through every note, artistic element and spoken word
The Festival to usher in not only the light of Chanukah but also the revelation of Jesus, Savior, Messiah and Light of the World
Monday, December 23 • Travel Home as the Spirit Continues to Move in Poland
Polish Believers to be ignited in their desire to see Jewish people come to know Jesus
Team members and volunteers as they travel home, including any staying to complete final details
Let's pray: 
Lord, please shift the landscape in Poland! We know You have a redemptive purpose there. May this Festival help usher it in, as Jewish people and Gentiles come to know Jesus and praise Him together as one. In Yeshua's name, Amen.