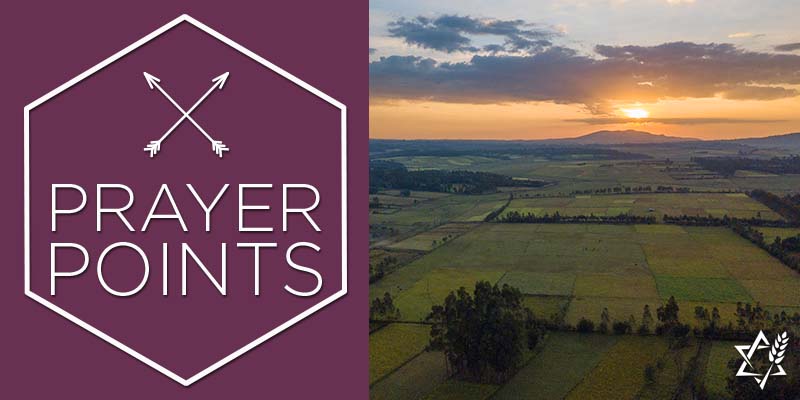 This has been a year of changes. Changed plans, changed schedules, changed expectations. And yet, our hopes remain high, and our faith is rising. We are more confident than ever that the Lord is in control – leading, guiding and providing.
God is also reminding us to do everything in love. Our hearts are stirred with love for the Dawro people of the Southern Nations region of Ethiopia. We are particularly eager to bless the Jewish people there as they have experienced not only hardship but also prejudice and persecution. Although we have had to change our Outreach dates to early November, we are moving forward with excitement to bring the Good News to them.
Will you pray with us? Please pray for:
All logistics to come together smoothly for us, including necessary permissions and authorizations for this area in which we have never ministered

All Outreach cargo to arrive in time and in perfect condition, as it will be coming in from several nations and shipments

Protection and favor as we prepare, travel, minister and return home

Our in-country staff members and medical professional partners, who are facing the hardships in Ethiopia daily

Ease and safety as we do some construction work to prepare the way for the Outreach, which will bless the community once we leave

Wisdom, strategies, and protection for all as we care for people amid elevated health precautions

The people of this new-to-us ministry location, which is right in the middle of the Jewish community – for them to be as truly open to the Good News as we've heard and that many will come to know Yeshua (Jesus)

Discernment as to how the Lord would have us minister to the spiritual needs of the community

God to help and guide Ethiopian congregational leaders, who have a heart for this new area, as they identify local leaders and pray toward establishing gatherings of new Believers
Let's pray:
Lord, although the Dawro people are new to us, they have been uniquely created by You, and are known and loved by You. Help us show that love to them in word and deed. Prepare the way for us, each mile and every step of the way. May bodies be healed, hearts opened and lives transformed as You minister through us to them, with love. In Yeshua's name, AMEN.