Jewish teen stabbed, murdered in a violent act of terror
Nineteen-year-old Dvir Sorek, a Jewish student enrolled in the Hesder military program, was found murdered outside the gate of the settlement of Migdal Oz in the West Bank.
According to reports, Sorek was unarmed and studying.
I can't begin to imagine the anguish Sorek's family must be feeling right now – the shock, grief and even anger at such a violent act.
The initial investigation claims Sorek fought for his life before his attackers eventually overcame his efforts. And without cause or concern, they left his lifeless body before fleeing to the Palestinian village of Beit Fajar.
This family isn't a stranger to the violence of terrorists. Sorek was the grandson of Rabbi Binyamin Herling – who was killed in a terror attack in the West Bank in 2000.
Potential catalyst for annexation?
Prime Minister Benjamin Netanyahu offered his condolences, visiting the site where Sorek's body was found. "We know that the Land of Israel is bought in agony," the Prime Minister said. "Today another one of our sons fell. He was from a family that has already made a heavy sacrifice for the Land of Israel. These vicious terrorists: They come to uproot, we come to plant. They come to destroy, we come to build. Our hands will reach out and we will deepen our roots in our homeland – in all parts of it."
Some believe Netanyahu's words indicate his resolve and intention to apply Israel's sovereignty over the West Bank.

Here's why Israel's annexation of her own territories is so critical…
Since the State of Israel's birth in 1948, even the very next day, surrounding Arab Muslim nations have joined forces to attack relentlessly.
But Israel prevailed in 1948. And she continues to prevail today against all odds.
Even with Israel's landholdings being a mere fraction of the surrounding nations, those countries have harbored terror-inducing hostility towards Israel and her people.
For nations like Jordan, Syria, Lebanon, Iraq and Iran, it's never really been about land. Rather, they argue ceaselessly that Israel shouldn't even be allowed to exist.
Over the decades, Israel has offered numerous land concessions to her enemies – all under the banner of future peace. In nearly every case, these concessions were rejected.
After the nation of Israel successfully fought and kept their land in 1948, they lobbied for peace with Arab Muslims who were living inside their borders:
Israel agreed to a partitioning of their land, giving a portion of it to the people known today as "Palestinians." But the Arab nations refused such concessions and plans.
The Jewish nation offered full citizenship to the Arab Muslims living within the borders of the new state. But this too was absolutely refused by the Arab nations. The whole nucleus of the problem lies on the shoulders of the Arab countries who encouraged Arab Muslims to leave Israel … but then refused to take them in.
Then in 2000, in another effort to foster peace, Israel offered to give the Gaza Strip and all but a small percentage of the West Bank into Palestinian control. The offer was utterly rejected. Following the rejection, Arab Muslims accelerated their attacks on Israel with a new kind of warfare: suicide terrorists mingling among and killing Israeli citizens.
Today, continued attempts to build a two-state system are unlikely to succeed. Israel has agreed to a two-state solution many times in the past 70 years. Muslim nations don't want a two-state solution.
The annihilation of God's Chosen People is their only solution. And their only goal. Anything else is entirely rejected.
The Prime Minister's potential move of annexing Israel's territories means an increased security measure to protect the Jewish people. Certainly, there will be retaliation for such a bold move. But it will also help prevent tragic attacks against the Jewish people – like Sorek late last week.
Occupiers or recipients of God's promise?
And then we can never forget, Israel isn't the "occupier" … this is her land, granted and recognized in 1948. But even more significant, the land was promised to Abraham and his descendants by God. And reaffirmed as the "Promised Land" when God led the children of Israel out of the land of Egypt.
When God appeared to Moses at the burning bush, He told Moses He would not only bring them out of the land of Egypt, He would also bring them, "into a good and large land, a land flowing with milk and honey …" (Exodus 3:8 TLV).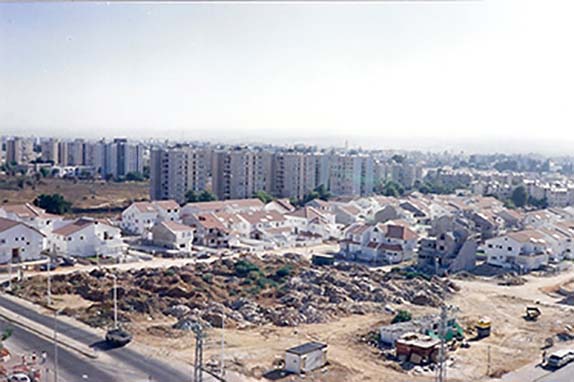 Appeasement and "land for peace" that diminishes the Jewish people's inheritance have not yet produced anything more than further hostility. The only viable plan for peace that will succeed is God's peace plan through the Prince of Peace, Yeshua – Jesus, the Messiah.
Only when He is invited in and hearts are changed can Muslim and Jew live in true peace with one another.
That's the heartbeat behind all of our work at Jewish Voice – in Israel and around the world. And I pray you'd be willing to give a generous gift to help.
Your generosity will help save and support the Jewish people by providing:
Critical humanitarian relief and resources to Jewish people throughout Africa
Life-saving dental and eye care for Holocaust survivors in Israel
Peace and eternal hope through sharing the Gospel of Yeshua (Jesus) to the Jewish people