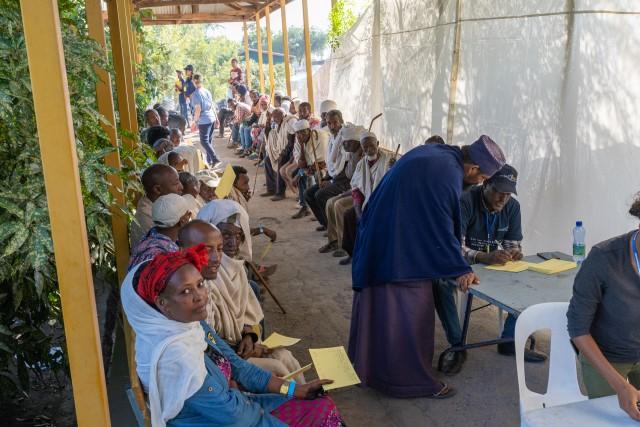 A few months ago, we told you about a "double-header" Medical Outreach we had planned for new locations in Ethiopia. We recently returned from these two back-to-back Clinics.
We want to thank you for your prayers and support to send our medical and support teams to these places that so desperately need medical help and the Good News of Yeshua (Jesus).
Because of you, we were able to conduct a five-day Clinic in Alamata, which is about 250 miles north of the capital city of Addis Ababa. We also provided a limited-care, three-day Clinic for the Yibir Jewish people living in Jijiga, a predominantly Muslim area in eastern Ethiopia, close to the Somalia border.
Both locations required us to tread sensitively among the non-Jewish neighbors of the Beta Israel and Yibir. And, through your support, we helped thousands of people in Yeshua's name, shared His love, and laid a foundation upon which – as God allows – we will continue to build.
Outreach by Outreach, patient by patient, you are helping reach people with the hope of Yeshua and compassionate humanitarian aid. Thank you for making a difference in Alamata and Jijiga.
Alamata, Ethiopia ‒ 2018
Medical Clinic
 14,251 Patients Served, including:

1,575 dental patients treated
2,690 eyeglasses distributed
191 eye surgeries completed
68 minor surgeries performed
Clean Water Project Distributed:

10,455 Individual LifeStraws®
100 Family LifeStraws®
2 Community LifeStraws®
 

Spiritual Care:
 

252 people visited the prayer room
52 of them verbally professed new faith in Yeshua
63 requested a follow-up visit
Jijiga, Ethiopia ‒ 2018
Dental and Eye-Care Clinic
2,325 Patients Served, including:

529 dental patients treated
487 eyeglasses distributed
89 eye surgeries completed
17 minor surgeries performed
 

Clean Water Project Distributed:

3,927 Individual LifeStraws®
95 Family LifeStraws®
4 Community LifeStraws®
Thank you for touching these lives in the most important ways possible through your partnership with Jewish Voice. You are making a difference.
Help us continue to spread hope, healing and the Good News of Yeshua to Jewish people and their neighbors in Ethiopia