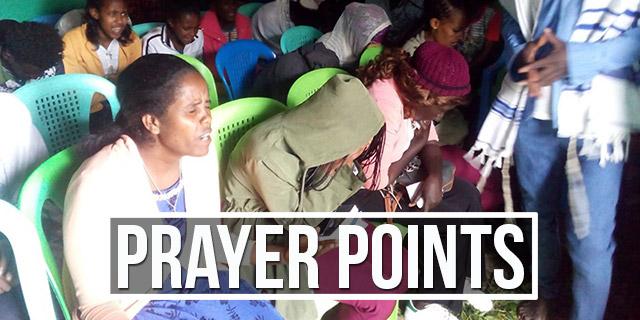 The recent senseless murder of 11 Jewish people in Pittsburgh continues to weigh on our hearts. Will you please join us in continuing to pray for the Lord's comfort and peace over the 9 families impacted by this tragedy?
We see persecution like this also in places where we minister. Shortly after the Outreach team returned from Ethiopia, we received news that Jewish Believers in another area of the country were enduring persecution. They had gathered for a conference (pictured above) where they worshipped and experienced the presence of the Lord in significant ways. Most notably, 10 Jewish people came to know Yeshua as their Savior. While the group met, a mob formed outside and threw stones at the fence and building causing visible damage.
When questioned, the townspeople said they opposed the Messianic Jewish Believers because they were passionate about worship, prayer and outreach ‒ and because they were Jewish. Even after several more days of persecution, meetings with officials, and attempts to end the violent threats, the situation has barely calmed. Our brothers and sisters in the Lord reached out to us, asking us to pray for them.
Many times this persecution is not limited only to Jewish people. Just last month, when I was in Ethiopia as part of our Alamata/Jijiga Clinics, I met a beautiful, young woman whose Muslim family and neighbors persecute her for her faith in Yeshua. She was deeply grateful for our presence as we sat with her, heard her story, and prayed for her. "I know the Lord has brought you here to encourage me," she said as tears filled her eyes.
These present-day stories of persecution among people we know underscore the urgency of the times in which we live as well as the importance of the work we do and the significant role of prayer.
Let's join forces in prayer against anti-Semitism and the persecution of Believers. Please pray for:
The Lord to protect Jewish people, thwart plans to harm them before action is taken and expose the anti-Messiah spirit at the heart of these prejudices and attacks
God to draw the hearts of Jewish people to Yeshua as they seek comfort and consolation
The Lord to come alongside and strengthen Jewish and Gentile Believers everywhere as they stand for Him in dark places and amid difficult circumstances including direct persecution
Wisdom and guidance for the Jewish Believers in Ethiopia persecuted in their own towns for their spiritual fervor and Jewish identity
A mighty outpouring of the Holy Spirit and bold preaching of the Word, along with confirmation through signs and wonders, that lead many ‒ including the persecutors ‒ to trust in the Lord
Let's pray: Lord, please show us how to stand strong on behalf of You, the Jewish people, and the work You are doing around the world. Show us how to love well, pray fervently, witness boldly and support Your kingdom work wholeheartedly. May we be filled with the strength and hope that is ours in Yeshua as we trust You and work towards His return. In Yeshua's name, Amen.
Learn more about the Enemy's persecution of Jewish people in Rabbi Jonathan Bernis' booklet Why Satan Hates the Jews.