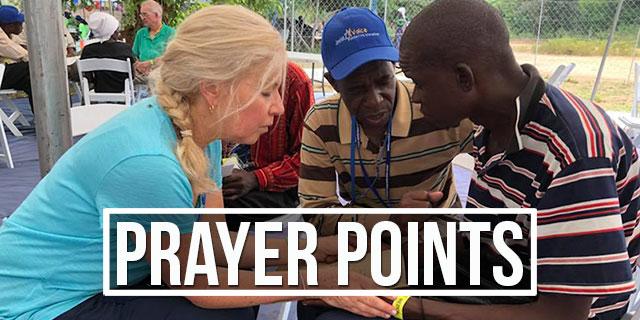 Prayers Needed NOW!
Your prayers are urgently needed! Although we've been to Masvingo, Zimbabwe, twice – and to the country numerous times – we have never held an Outreach there amid the challenges of their current social and economic conditions. The recent cyclone hitting Zimbabwe has added to the great needs of the people there.
As you receive this email, our staff team is already in Zimbabwe, and Outreach Partners are beginning the series of flights that will bring them there. Everyone will meet up in Masvingo for Jewish Voice's first Zimbabwe Medical Outreach of the year, from March 28‒April 8.
We've done all we're able to prepare for this much-needed Medical Clinic, but we know there is no substitute for the work of prayer to pave the way for Kingdom impact. Thank you for joining our efforts in Masvingo – right from wherever you are – by praying. Your prayers, lifted to the Throne of God, will bring Heaven to Earth in Masvingo.
The need for prayer is URGENT.
Please PRAY NOW for:
Hope for the people of Zimbabwe, and that the Lord uses this team to usher in that hope through medical care and the Good News of salvation through Yeshua (Jesus)
Stamina for our team as we meet the needs of the many thousands who will come, especially in light of the nation's healthcare crisis
The Lord to use us as a light in the darkness for the people we minister to
God to give us words of encouragement for the Zimbabwe Believers serving alongside us
Laborers and ongoing resources that will enable us to continue ministering in Zimbabwe, where there is such great need as well as open doors for the Good News
PRAY DAILY. We urge you to pray along with us, day by day, during this Outreach. See our extended, daily prayer points to pray every day for the ministry taking place in this hurting nation. These daily prayer requests will help you better know how to pray for salvation, healing and the logistics we'll face in Zimbabwe.
And it's not too late to log on to our Prayer Calendar, here, where you can sign up for a time to pray from home for the Outreach.
We are so grateful for your prayers.
We pray:
Father, we head into this Medical Outreach with great sobriety regarding the challenges the nation and people of Zimbabwe are facing. Even so, in You, we have great hope! Use us as your vessels to bring the medical care and message of hope and salvation that they so desperately need. In Yeshua's name, AMEN.
Would you like more detailed prayer requests for each day of the Outreach?
Thanks to your support, our Medical Outreaches bring hope and healing to thousands of Jewish people and their neighbors!