Vice President Mike Pence's speech before Israel's legislature on Monday won acclaim from all notable Israeli leaders this week, The Times of Israel reported.
"It's fitting that you are the first American vice president to speak at the Knesset in Jerusalem," Prime Minister Benjamin Netanyahu told Pence. "No American vice president has had a greater commitment to Israel and its people."
Gilad Erdan, Israel's Minister of Strategic Affairs and Internal Security, called Pence's address "historic" and "moving." Writing on Twitter, Erdan added, "This is a great day for the unbreakable US-Israel bond, and for our common fight to defeat terror and protect freedom."
Pence's visit to Israel this week marks the first time a senior American official has traveled to the Jewish State since the Trump Administration formally recognized Jerusalem as Israel's capital last month.
In his remarks, Pence put a date on the promised relocation of the U.S embassy from Tel Aviv to Jerusalem, announcing that the move would be complete by the end of 2019.
He additionally called on the Palestinians to return to the negotiating table for peace talks, and vowed that Washington would withdraw from the "disaster" that is the Iran nuclear deal, unless it was "fixed."
The vice president's address earned numerous standing ovations from Knesset members across the political spectrum. But it was also interrupted by Arab lawmakers who were ushered out after holding up signs saying, "Jerusalem is the capital of Palestine." Such displays are prohibited by the Knesset, and the legislature maintains a zero-tolerance policy during any foreign dignitary's speech.
The embassy move and recognition of Jerusalem are "in the best interest of peace," Pence continued in his remarks. "By finally recognizing Jerusalem as Israel's capital, the United States has chosen fact over fiction."
Pence declared to thunderous applause that President Trump is "fully committed to achieving a lasting peace between Israelis and Palestinians," and reiterated that "if both sides agree, the United States will support a two-state solution."
He further added that "any peace agreement must guarantee Israel's ability to defend itself by itself."
A disastrous nuclear deal
The vice president's remarks also addressed the Iran nuclear deal, which he called a "disaster" that merely delays Tehran's development of nuclear weapons.
"The United States of America will no longer certify this ill-conceived agreement," declared Pence.
Referring to a recent decision by President Trump to extend a sanctions waiver as part of the nuclear deal, Pence said the extension was designed only to buy time for the U.S. Congress and its European allies to toughen penalties against the Islamic Republic of Iran.
"This is the last time. Unless the Iran nuclear deal is fixed, President Trump has said the United States will withdraw from the Iran nuclear deal immediately," said Pence, to tremendous applause.

"The United States of America will never allow Iran to acquire a nuclear weapon," he added. "Beyond the nuclear deal, we will also no longer tolerate its support of terrorism."
A time for prayer
The vice president's strong speech makes excellent points and is refreshingly supportive of Israel. At the same time, this worldwide emphasis on U.S. support for Israel, including the embassy move, directly impact reconciliation efforts and increase difficulties for our ministry efforts through our Jewish Voice office in Israel and the more than 60 ministries we work with on the ground there. Please keep all of this in your prayers throughout this tumultuous time.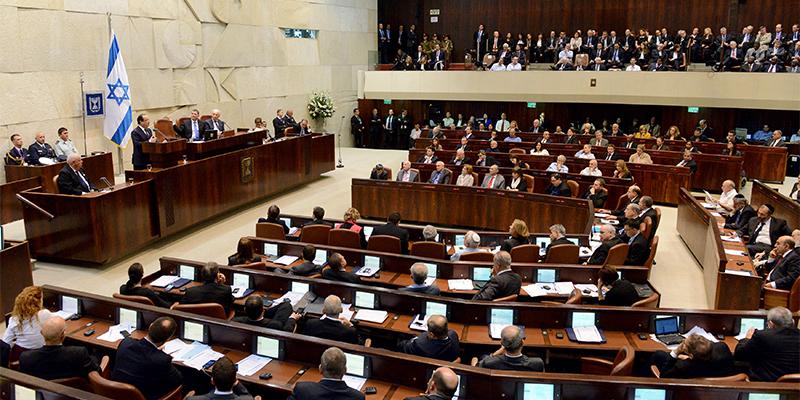 Reaction beyond the Knesset
The Palestinians, who refused to meet with Pence because of the U.S. decision on Jerusalem, slammed the vice president and harshly criticized his speech.
Chief Palestinian negotiator Saeb Erekat tweeted in part, "The messianic discourse of Pence is a gift to extremists and has proven that the U.S. administration is part of the problem rather than the solution."
Peace may be possible
Despite the Palestinians refusal to meet with Pence, this week's developments give us reasons to be positive.
America continued to strengthen its relationship with Israel and urged the Palestinians to come back to the negotiating table with the United States. The U.S. also put Iran on notice that the nuclear deal will be canceled and sanctions reinstated unless Tehran stops trying to build weapons of mass destruction.
As Vice President Pence was speaking to the Israelis, Palestinian Authority President Mahmoud Abbas was receiving a similar message from the European Union, saying it is ready to expand its involvement in the Middle East peace process, but the U.S. will have to have a central role.
What you can do
I do so appreciate your interest in what's happening the Middle East, how it affects Israel, and your support of this ministry. We will continue to keep you informed from the biblical perspective with news sourced directly from Israel.
Your gifts to Jewish Voice directly contribute to support of Israel and our efforts there to bring hope and healing to Jewish people, both those in great need in Israel as well as others hoping to immigrate there. Our Israel ministries help those who are:
Living in poverty, including elderly Holocaust survivors
Victims of abuse, addiction and even human trafficking
Seeking to realize their lifelong dreams of making Aliyah to Israel
… and above all, those who need to hear the Good News of Yeshua (Jesus), the Messiah
Please pray for our office in Israel and for the dozens of ministries we work with to help Jewish people there who so desperately need our support. Pray also for our leaders as they seek both justice and reconciliation. And, as always – as we're directed to do in Scripture – please pray for the peace of Jerusalem.