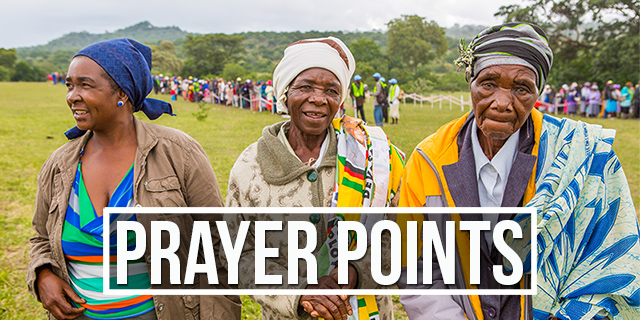 LORD, the harvest is passing, and we pray for those not yet saved! (inspired by Jeremiah 8:20)
As this email is sent out, we are over halfway through our Mberengwa, Zimbabwe, Medical Outreach. This strikes a sobering chord in that it is the last Jewish Voice Ministries Outreach of 5777/2017.
Like Jeremiah, we are prompted to cry out for the hurting people in the places we go. We know that through medical care and the presentation of the Good News, there is healing for many who come.
And our hearts grieve for those we are not able to reach and those who do not receive the gift of life offered through Yeshua. To paraphrase Jeremiah 8:20, the harvest season of JVMI Medical Outreaches for this year is almost past, and so many still are not saved.
Please pray during these last few days of the Mberengwa Outreach for:
The Ruach HaKodesh (Holy Spirit) to break through lies and bondages to reveal Yeshua as Healer, Deliverer and Savior
Undeniable signs and wonders of healing and miracles accompanying His Word and drawing many to Him
The final portion of the Clinic to run smoothly and safely and for safe travels home
Salvations to continue after we've gone as local congregational leaders visit those who have requested follow-up
Many people to become part of those congregations, grow in the Messiah and reach out to others with the Good News
We are also currently in the Hebrew month of Elul, and observing the 40 days of teshuvah (repentance, returning), leading up to Rosh Hashanah and Yom Kippur. In light of this, please pray in line with the season for yourself, Jewish Voice, and Jewish people around the world. Please pray for:
Believers to see this as a time set apart to be in the Lord's presence and to search our hearts
Wholehearted return to God and acknowledgement of any ways we have been drawn away, become distracted or sinned
Jewish people to be drawn to look inward, see their own needs and shortcomings and seek the Lord, finding Yeshua as the culmination of their search
Tender and open hearts for Believers to desire a fresh outpouring of the Lord's heart for those who don't know Him. May we be convicted with a renewed longing to see the lost found and ministered to through the Good News of Yeshua
We pray: Lord, on every Outreach, we are faced with the sad task of serving the "last one," even though many are still in line, and then closing our Clinic. It so poignantly brings to mind the urgent opportunity we have now – in these Last Days – to reach out while "there is still light." Show us how to do this well. Our hearts are burdened, but our hope is in You.
In Yeshua's name, AMEN