Emma was just a little girl when the bombs of WWII
started falling.
She wasn't much younger than my own daughters. And I can't imagine the fear and confusion she experienced…
She was hated simply because she was Jewish.
After hugging her papa for the last time, she rushed with her mama to catch the train that would get them out of her home country of Belarus.
And even as she boarded the train, the alarms were going off, blaring a warning in the distance. Hitler's hoard had arrived, bringing devastation, destruction and death.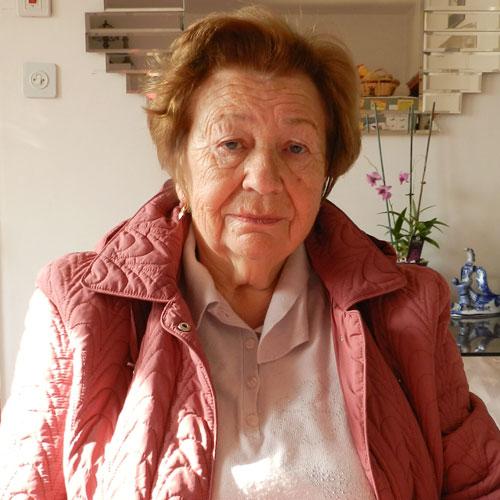 Emma's papa ran towards the danger. He and countless others stood bravely to fight on the frontlines and defend their home against the Nazis -- who were more monsters than men.
But Emma, her mom and countless other Jewish people throughout Belarus were bound for freedom in Kazakhstan.
The effects of the Holocaust in Belarus -- and in many other areas throughout Europe were shocking. The Jewish population was nearly decimated: over 60% of the Jews in Belarus were killed.
You may think Emma was one of the lucky ones -- who escaped just in time. But she saw death at every turn. The trains rushing the Jewish people to freedom and safety came under Nazi attack again and again.
So many who tried to escape lost their lives to the violence.
Others starved on the trains -- metal carts intended to carry cattle across the countryside. But now they were the only thing separating these Jewish people from certain death.
Emma and her mommy made it to Kazakhstan. And while they had their lives, they still had to fight hunger and the bitter cold to survive.
Working her fingers to the bone, Emma's mama did everything she could to provide for Emma -- to keep her alive and as healthy as she could.
But it never seemed enough. There simply wasn't enough food. Every day Emma walked the tight rope between life and death.
When Emma came to Israel a few decades later, you'd think she would finally have had the opportunity to live out her "golden years" in peace and comfort.
After all the horrors she'd been forced to witness, surely the final stages of her life could be rich and secure.
But the truth is, today, Emma is still barely surviving.
Her health has never fully recovered from life on the run. Osteoporosis has weakened her bones. Every step she takes fills her with pain.
And she's almost entirely deaf.
After she pays rent and pays for the medicine she needs, Emma barely has anything left for food, utilities -- or anything else she may need.
And she's utterly alone…
It's for Emma's sake that I'm writing to you today.
An estimated 45,000 Holocaust survivors in Israel live below the official poverty line. Many struggle to survive on small pensions that simply don't provide enough to live on.
Like Emma, this means they often must choose between buying food, purchasing medicines or paying for heat for their tiny apartments in the winter.
And it certainly means many Holocaust survivors can't afford dental, eye or even medical care.
But, even more tragic, many of these Jewish people who survived horrors you and I can't possibly imagine are living without hope.
After all they've suffered -- and all the evil they witnessed -- some don't even believe God exists.
After everything they've been forced to endure, survivors of the Holocaust are some of the most difficult of all Jewish people to reach with the Good News given all that they have suffered.
And there's another problem. We're in a race against time. In just a few more years, Emma and others like her will be gone.
They need the Good News now! Will you help me reach them while there's time?
The cost to reach these Holocaust survivors is significant.
For the critical care that's needed, the kind of care that can open the doors to share the Good News of Yeshua (Jesus)… we just can't cover it all on our own.
Below are the kinds of costs we're facing to provide the care so many Holocaust survivors need today:
$25 provides for basic vision care -- including eyeglasses for a Holocaust survivor
$80 will cover the cost for a day of caregiving services to a Holocaust survivor to help them with any medical needs they have
$200 will provide a Holocaust survivor with a new set of dentures
$2,000 will provide major dental surgery, when it's needed, for a Holocaust survivor
But these are more than just representative costs. They're opportunities to transform the life of a Holocaust survivor.