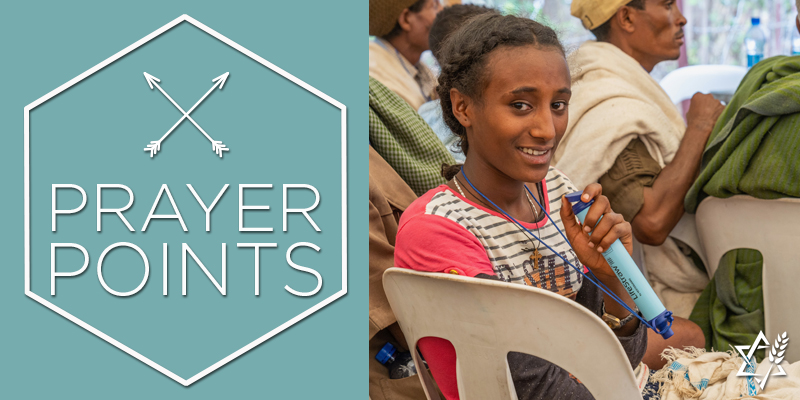 Perhaps you've heard us mention LifeStraws®, something we frequently offer during our Medical Outreaches. As Jonathan Bernis has previously shared, these fantastic little water filters use no batteries or electricity, and they remove 99.9 percent of the bacteria, parasites and other contaminants. Water that is full of potentially deadly elements can be transformed into healthy drinking water!

Here are some ways you can pray for us as we offer the gift of many "cups of water" in Jesus' name when we give LifeStraws® to people in areas with no other access to clean water.

Please pray for:
Resources for JVMI to have an ongoing supply of personal LifeStraws®, which can filter hundreds of gallons of water, as well as the larger, family-sized units able to clean thousands

Favor in obtaining any necessary permission to distribute them in various locations

Ease and timeliness in shipping and transporting large numbers of filters to remote destinations, so they are accessible when we arrive to minister

People to gain a clear understanding – through our water education classes – of the dangers of unclean water and how to properly use the filtration devices

Protection and divine appointments on those occasions when team members go out to nearby villages to distribute filters to people they encounter
Just as water is essential to life, so the Living Water, Yeshua (Jesus), is essential to abundant, eternal life. Will you pray with us in that regard as well?

We pray:

Lord, we are so blessed to be able to offer these amazing water filters to dear ones in places where clean water is scarce if available at all. Thank You for this privilege. And thank You for the even greater privilege of offering the Good News of Yeshua, the Living Water, everywhere we go. Just as the woman at the well in John 4 received more than she ever imagined and went on with great joy to share Good News with her neighbors, please prepare thirsty hearts to receive Jesus. May they drink from the well of salvation and make His name known in their own communities and nation (Isaiah 12:3). In Jesus' name, AMEN.