Holocaust survivors in Israel have suffered enough!
Many Holocaust survivors live in poverty, getting by on such meager pensions that they sometimes choose between buying food, seeking medical care or heating their homes in winter.
Working through our own office in Israel, and through other Messianic ministries we partner with, Jewish Voice is working to ensure that those survivors will no longer have to suffer. But none of this will be possible without the prayers and financial support of caring people like you.
Will you do your part by giving a gift now to bring compassion, healing and hope to a Jewish Holocaust survivor living in poverty in Israel?
Please consider before you give:
$25 provides a simple pair of eyeglasses.
$800 provides dental care.
A gift of any amount can help purchase dentures.
---
Thank you for your partnership!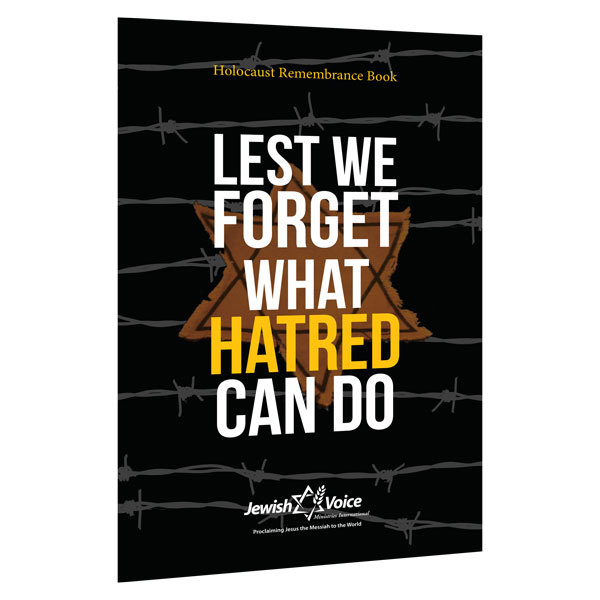 With your contribution of $20.00 or more
Lest We Forget What Hatred Can Do, book
Six million Jewish people died in the Holocaust. Each one of them, and each survivor, is a unique story. During the Holocaust, the worst of the human race had free expression. The possibility that mankind is capable of such ideology and brutality is sobering. That's why we can never forget the Holocaust. Lest We Forget offers stories of Holocaust survivors and a brief history of how Adolf Hitler advanced his campaign to eradicate what he called "the Jewish problem." We remember – and with our deepest respect, we honor – those who died as well as those who survived the Holocaust. We remember . . . to ensure it never happens again.
---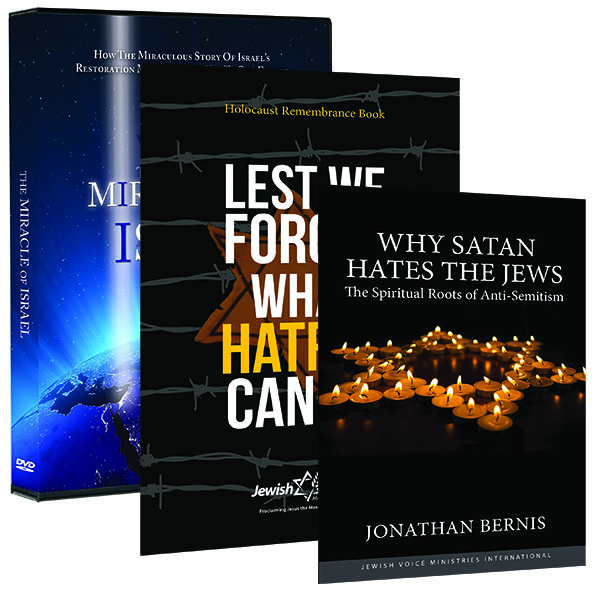 With your contribution of $40.00 or more
The Miracle of Israel Blu-ray Package (2021)
This package includes:
The Miracle of Israel Blu-ray
The Miracle of Israel tells the story of the only nation in the history of the world that has maintained a national identity for centuries without a homeland.
Why Satan Hates the Jews (booklet)
In this powerful booklet, Rabbi Jonathan Bernis answers this question and explains the biblical history of when anti-Semitism began and why there is still such hatred toward the Jewish People today.
Lest We Forget What Hatred Can Do (booklet)
Lest We Forget offers stories of Holocaust survivors and a brief history of how Adolf Hitler advanced his campaign to eradicate what he called "the Jewish problem."
---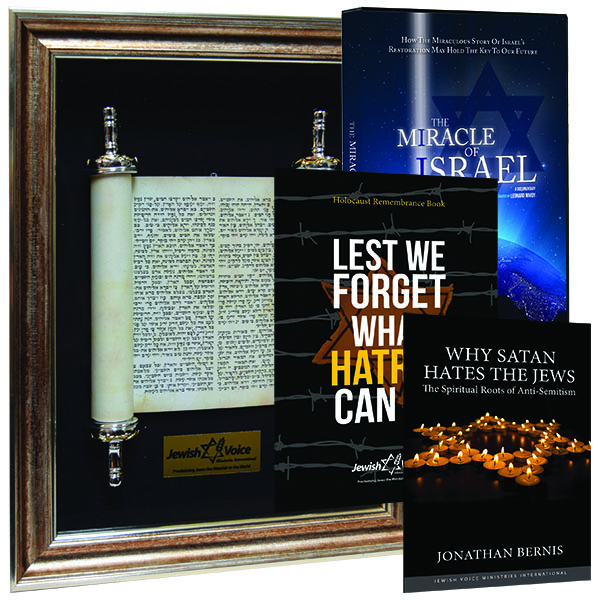 With your contribution of $100.00 or more
Torah Scroll Shadow Box Package (2022)
Torah Scroll Shadow Box
The Miracle of Israel DVD
Why Satan Hates the Jews (booklet)
Lest We Forget What Hatred Can Do (booklet)