Your gift means help and hope for Jewish people struggling to survive!
When Ballet's father brought him to the Jewish Voice Medical Clinic in Gondar, he feared that his boy would not survive much longer. "I hope my child lives," he said. It was a father's desperate cry for help.
Ballet had a parasitic infection from drinking contaminated water. Our doctors were able to treat him. In addition to the life-saving medical care you provided, you supplied them with simple, low-cost water filters called LifeStraws® that eliminate 99.9% of all bacteria, parasites and solid particles from their drinking water.
Because of you, neither Ballet, nor his family, nor so many others in their village has to drink contaminated water anymore.
Please consider sending a gift to help save more lives and share the Gospel with more Jewish people and their neighbors in some of the most remote parts of the world
Please also know that we are grateful for your partnership. None of this would be possible without you!
---
Thank you for your partnership!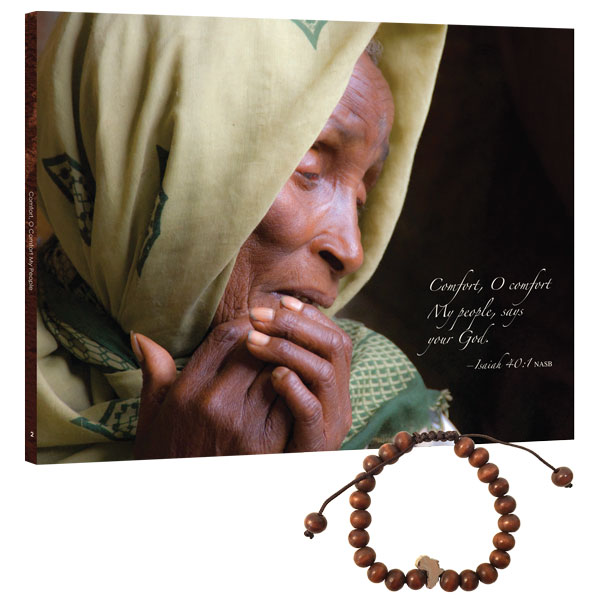 With your contribution of $30.00 or more
Comfort, O Comfort My People Photo Book Package (2117)
This package includes:
Comfort, O Comfort My People, photo book
Meet the Beta Israel of Ethiopia. This beautiful coffee table book of photographs and stories chronicles Jewish Voice's outreach to this lovely but impoverished people. See how your support has uplifted and helped the poorest of the poor Jewish people of Ethiopia.
Africa Bracelet
This earthy bracelet will be a fashionable reminder of the work you support through Jewish Voice Ministries International. As you wear it, you will remember to pray for the beautiful people of Africa whose lives you touch with humanitarian aid and the Gospel when you give to Jewish Voice.
---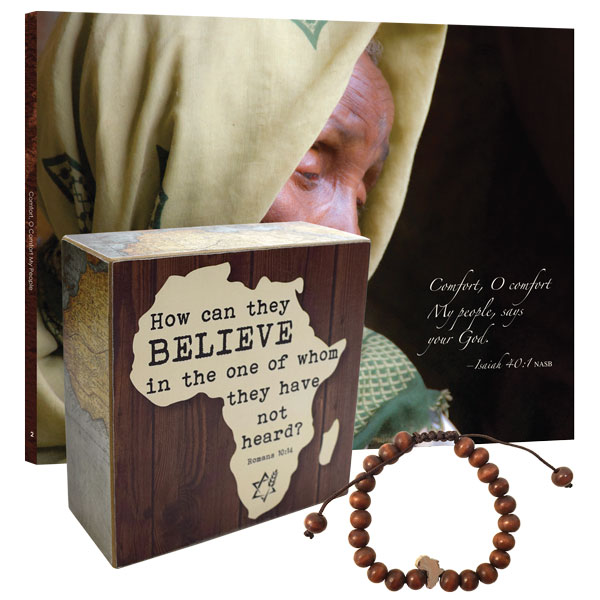 With your contribution of $60.00 or more
Believe Africa Plaque Package (2118)
This package includes:
Africa Box Plaque
A Jewish Voice exclusive, this art piece bears the outline of Africa against a woodgrain pattern and contains the words of Romans 10:14 – How can they believe in the one of whom they have not heard?" Edges are adorned with antiqued map designs of Africa, where Jewish Voice provides much-needed medical, dental and eye care and shares the Gospel with impoverished Jewish communities.
Comfort, O Comfort My People, photo book
Africa Bracelet
---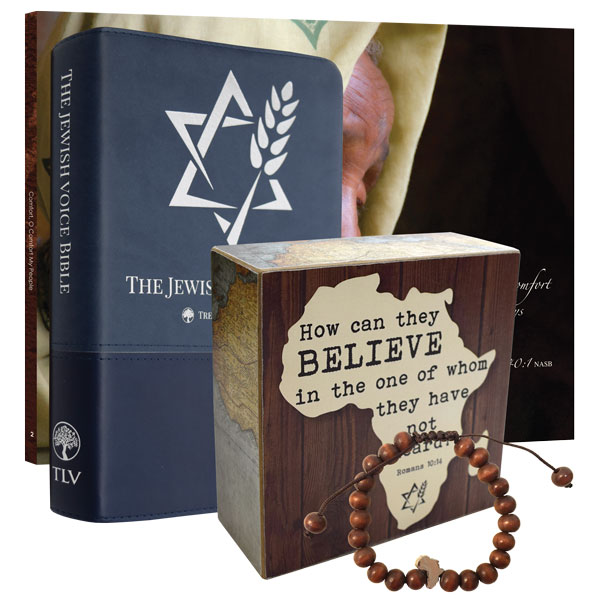 With your contribution of $150.00 or more
The New Jewish Voice Bible Package (2119)
This package includes:
The Jewish Voice Bible
The Jewish Voice Bible presents the Holy Scriptures in the Tree of Life Version (TLV) with an abundance of special features to enrich your Bible reading. The TLV Bible translation unites Old and New Covenants with a consistent Hebraic perspective. It introduces important Hebrew words that clarify scriptural meaning and restores names to their original Hebrew.
Africa Box Plaque
Comfort, O Comfort My People, photo book
Africa Bracelet