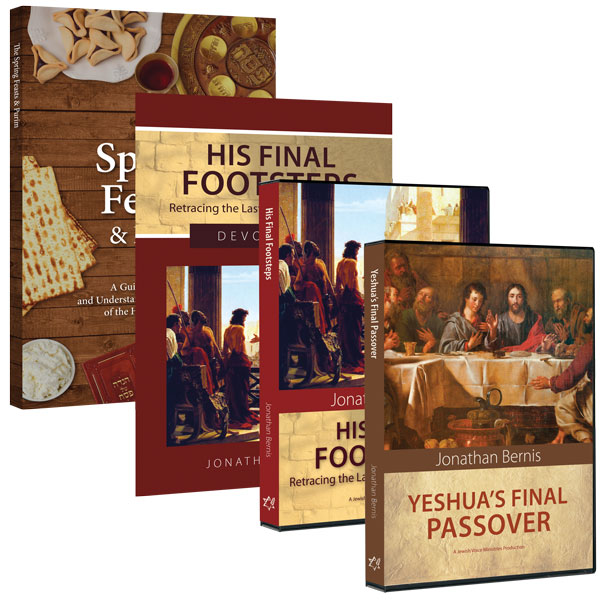 With your contribution of $40.00 or more
His Final Footsteps DVD Package (2123)
The Spring Feasts and Purim
Gentile Believers in Yeshua (Jesus) have much to gain by observing these Feasts as well. You'll marvel at the intricate pictures of God's redemptive plan instilled into each of His "appointed times," or moadim.
His Final Footsteps: A 24-Day Companion Devotional
The last 24 hours of Jesus' life were filled with extraordinary, dramatic scenes leading up to the most important event in history. In the DVD presentation of "His Final Footsteps," Rabbi Jonathan Bernis guided you through Jerusalem retracing Jesus' final day.
Yeshua's Final Passover DVD
Passover is a monumental event immersed with symbolism in Jewish history, instituted when God delivered the children of Israel from slavery in Egypt. In this inspirational brand-new DVD, filmed on location in Jerusalem in the Upper Room, Rabbi Jonathan Bernis teaches us how to observe the rich traditions of the Passover Seder — just as Yeshua (Jesus) did.
His Final Footsteps: Retracing the Last 24 Hours of Jesus' Life DVD
In this exciting new DVD presentation filmed on location in Jerusalem, Jonathan Bernis serves as your guide to re-living and understanding the most important 24 hours in human history.
---