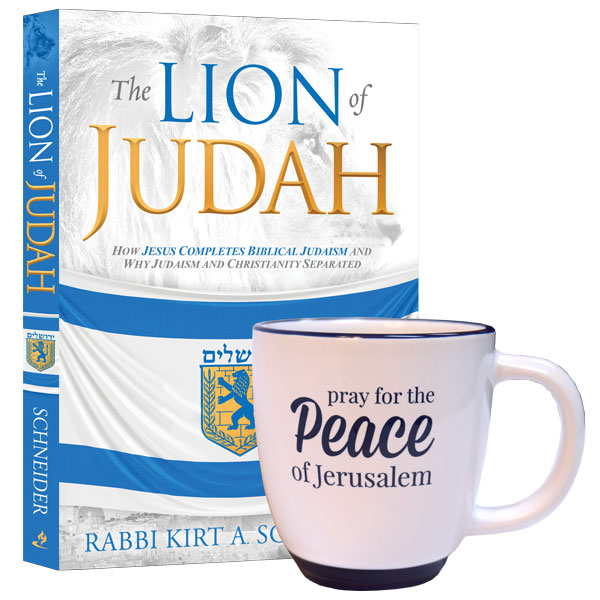 With your contribution of $40.00 or more
The Lion of Judah Package (2150)
The Lion of Judah
Jesus was born Jewish, lived a Jewish life and died Jewish. His original followers were Jewish. Yet somehow, Christianity and Judaism are divided. Unearth the history behind this great separation in Rabbi Kirt Schneider's groundbreaking new book, "The Lion of Judah: How Jesus Completes Biblical Judaism and why Judaism and Christianity Separated."
Pray for the Peace of Jerusalem Mug
Functional and inspirational, this ceramic JVMI mug is white with navy blue rim and base. It holds 12 ounces, is 4" high, and bears the words of Psalm 122:6 "Pray for the peace of Jerusalem," on one side and the JVMI logo on the other.
---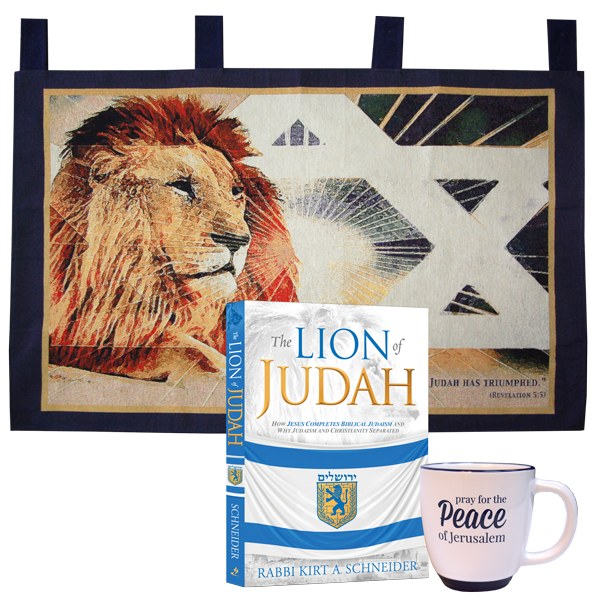 With your monthly contribution of $30.00 or more
Lion of Judah Tapestry Package (4183)
Lion of Judah Tapestry, wall hanging
This finely woven wall tapestry is beautifully designed with a regal lion's face, Star of David, and shining rays of light depicting the glory of Yeshua the Lion of Judah.
Pray for the Peace of Jerusalem Mug
The Lion of Judah
---