Share in ministry that is close to the heart of Jesus by ministering to the sick, lame, broken, and captives of spiritually oppressed. You'll serve as His hands and feet, offering hope to impoverished Jewish communities in Africa and India by being a part of free medical, dental, and optical clinics. By joining with Jewish Voice in a medical outreach, you'll participate in distributing life-changing medicines, and nutritional support.
In addition to traditional medical care, our teams offer prayer to those who ask for it. We have witnessed many, many miraculous healings. Many of the people to whom we minister have never before seen a doctor. Most have never heard the Good News of their Messiah. During our medical outreaches, patients and family – Jews and their Gentile neighbors alike - receive care and prayer from our dedicated team of medical partners. They also receive practical care and prayer from our non-medical outreach partners. We serve as the hands, feet, and heart of Yeshua to thousands each year.
Throughout each year, our teams travel to remote locations in Africa where there is a known Jewish population. We make it clear that we've come to connect with the Jewish people in the area, but are there to be a blessing to their neighbors and the entire community. By serving the Jewish people and their neighbors, communities in Ethiopia and Zimbabwe, we have also welcomed thousands into God's kingdom as they have come to faith in Yeshua.
Our first medical clinic was in Gondar, Ethiopia in 1999 where we treated 7,000 patients. Now we treat an average of over 11,000 patients per short-term medical mission trip. Those numbers are growing. Since 1999, we have served over 340,000 patients and have seen more than 50,000 people professed Yeshua as Messiah. Each patient and those with them are invited into our prayer room where they have the opportunity to receive compassionate prayer and hear the Gospel of Yeshua (Jesus). This provides a unique opportunity for non-medical professionals to participate in our medical outreaches. In fact, while we need medical professionals, non-medical partners are essential to the success and vision of our outreaches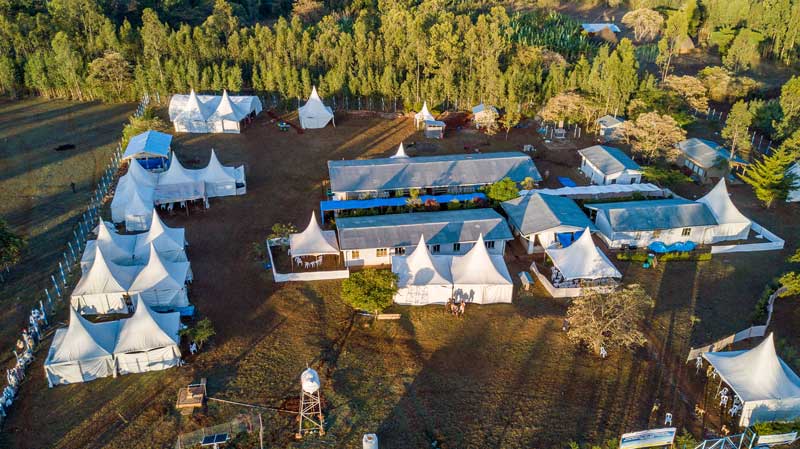 (Aerial photo of Jewish Voice medical clinic in Woliso, Ethiopia)