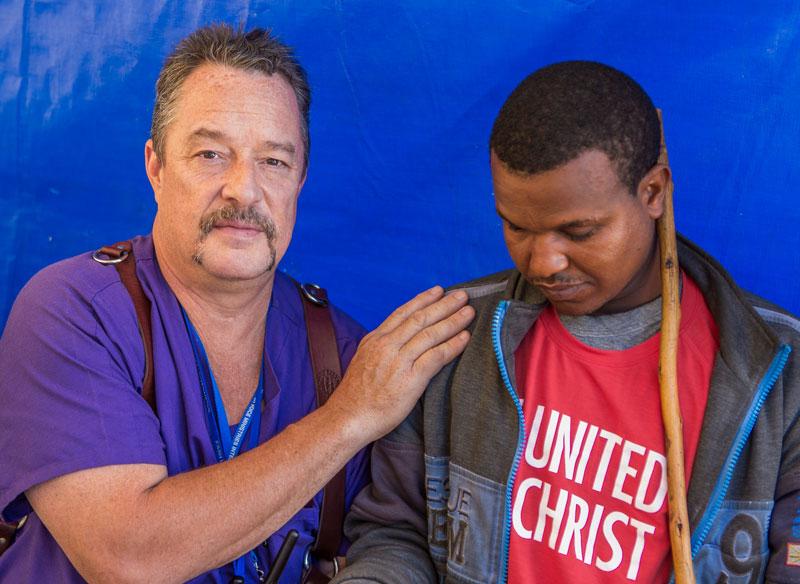 This amazing story was captured by one of our dedicated volunteers, Bob Aiken, at a recent Jewish Voice Medical Clinic in Debre Birhan, Ethiopia. It demonstrates how your generous support is impacting lives for Yeshua (Jesus).
Debre Birhan, located in central Ethiopia, means "mountain of light." God certainly focused His light into my life on this day, one I'll never forget . . .
As I looked out over the long line of anxious people waiting to be treated at the Clinic, I saw a young blind man being led to the waiting tent. I was immediately overcome with a feeling that I should talk to him, so I went over and struck up a conversation. I found out that he grew up as an Orthodox Believer and lives in Debre Birhan. His name is Meseret Geta. He's 23 years old and a student.
He gets around with a long stick to guide his way.
As we worked our way through the Clinic, we talked. I asked if he came with anyone. He said he was alone. He needed help only from the road to the Clinic site, and someone had offered to guide him. He'd walked on his own all the way from home.
Meseret told me he was a shepherd boy, blinded when he was 4 years old. He remembers trees, mountains, and the color red. He said he could tell I truly cared for him, and that he loves me like his mom and sister—in other words, as a family member; a father figure. And I feel the same way about him. We truly made an immediate and significant connection.
Your gifts support Medical Clinics where people like Meseret can come to find help. And as we demonstrate our compassion in Yeshua's name, we have the opportunity to share His story. Thank you, and God bless you for your partnership.
I asked Meseret if he wanted to go to prayer counseling, and he said yes. There, he heard the Gospel and prayed to Yeshua (Jesus) to save him. All of us prayed for him afterward. He kissed everyone's hands and hugged me.
After that moving time in the prayer tent, we walked hand in hand back to the road, where he got a ride home in a horsedrawn buggy.
"Well," Meseret said to me, "This will be the last time we will see each other."
"No," I answered. "We will see each other in heaven."
We hugged, expressed our love for each other, and parted ways as brothers in Yeshua.
I was deeply moved by Meseret's genuine love.
Later, I was told what his names means in the local language. Meseret means "foundation," and is usually given to a firstborn child. Geta means "Lord."
How appropriate that this wonderful young man, embarking on a new life of faith in Yeshua, carries a name that honors our Lord.
Categories