Have you ever taken a child or a grandchild to a pediatrician's office? If you have, you've probably seen a familiar toy in the waiting room. It's usually a wooden block with large colorful beads threaded through a maze of crisscross wires. Children can push the beads up and down, back and forth along the wires on a rollercoaster ride.
These toys have a multipurpose. Not only do they keep a child occupied and entertained while they wait, they also stimulate the child's mind with shapes, colors, counting, and hand-eye coordination.
Troy Wallace, our CLD (Congregational and Leadership Development) director recently brought one of these toys with him to the Messianic Jewish congregation in Chaza, Zimbabwe.
"I brought it because it perfectly symbolizes what we're doing through our CLD outreaches across Ethiopia and Zimbabwe."
You see, like that toy, every congregation we help establish has a multi-purpose. Through your prayers and financial support of JVMI, the work we're doing is three-fold.
First, we are providing a place for communities of Jewish Believers to gather for teaching, discipleship, and worship. The buildings may be a little primitive by Western standards, but they are filled with joy, laughter, song, worship, praise, and love. The heartbeat of the ministry of Jewish Voice can be seen in these congregations, and together, we are training them to continue to grow in their Messianic faith.
Second, we are working with these communities to grow their economic health. For example, we invested in a chicken project last year. The communities have been learning how to raise chickens so they can eventually achieve a level of economic independence. Our hope is that by next year, all 60 congregations in Zimbabwe will have baby chicks to raise as a result of our initial investment. We are now helping some congregations in Ethiopia to purchase looms so they can produce textiles and provide help to the neediest among them. We learned long ago that it is far better to teach someone to fish than to provide a fish. This is our strategy in Zimbabwe and Ethiopia, and it is working!
Third, these buildings also serve as community centers and pre-schools. Young children and youth are taught, trained, and nurtured in their faith in a loving, caring, and godly environment. As Proverbs tells us, train up a child in the way they should go and when they are older, they will not depart (see Proverbs 22:6).
This is why Troy brought that educational toy of beads and wires. The moment he handed it to the teacher, she began asking the children to count the beads and name the colors. It quickly turned into a visual teaching opportunity, and the children loved it!
Every time one of the children got the answer right, the others would cheer, "Well done! Well done! Super!"
It was so exciting to see!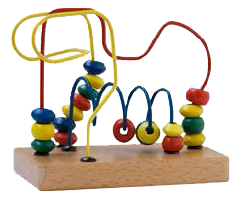 The work we're doing—the work you support so faithfully—isn't just medical clinics that last for a week in places like Gutu and Zimbabwe, and then we're gone (although it is an amazing week for the 10,000 or more that receive medical, dental, and eye care all completely free of charge). Ministry and care continues day after day, week after week, month after month through the developing and growing communities of Jewish Believers in Jesus (Messianic Jews) we are raising up—adults and children alike. Children are learning to count, recognize colors, and develop the hand-eye dexterity to move beads along wires so they can one day build their communities and participate in economic growth and independence. But most importantly, they are learning to worship and love the Lord with all their hearts, minds, and strength!
This is the pattern for ministry that God has given us to make a long-term impact in Zimbabwe, Ethiopia, and other nations the Lord leads us to. These local congregations are now multiplying and expanding, and they are the ones now providing the ongoing outreach care, training, and education. Not just a few times a year, but every day!
With such sudden and significant growth, however, there is a pressing need for leadership.
We need spiritually hungry and dedicated men and women who will heed the call to serve these young congregations, who will submit to training in the Word and prayer, and who are sold out and hungry for God to raise them up to use them to serve their people.
In the last year of Moses' life, he asked the Lord to appoint a new leader over Israel who should be ready to take his place. And the Lord answered:
'Adonai said to Moses, "Take Joshua son of Nun, a man in whom is the Ruach, and lay your hand on him. You will have him stand before Eleazar the kohen and the entire assembly and commission him before their eyes. Give to him some of your authority so that the whole community of Bnei-Yisrael will obey him"' (Numbers 27:18–20).
Because Moses made this investment in the future leadership of Israel, something remarkable happened.
"Now Joshua son of Nun was full of the spirit of wisdom, for Moses had laid his hands on him. So Bnei-Yisrael [the Children of Israel] listened to him and did just as Adonai had commanded Moses"(Deuteronomy 34:9).
Not only did Moses make an impact on Joshua's life individually, but as a result, the whole congregation of Israel benefitted.
The Apostle Paul also understood the vital importance of training and equipping leaders to grow and nurture the community of faith. He wrote to his protégé, Timothy:
"And what you have heard from me among many witnesses, entrust to faithful people who will be capable to teach others also" (2 Timothy 2:2).
This commitment to teaching and training leaders in the nations we work in is the foundation of our vision for CLD. The impact that the 60 Messianic Jewish congregations we have now planted in Zimbabwe, 15 in Ethiopia, and those that will grow from them, will be, in large measure, determined by the investment that we make in raising up their leaders.
The pattern that we see throughout Scripture is one generation passing on to the next their faith, values, and biblical heritage. That is the pattern that we are committed to following in Ethiopia and Zimbabwe. As part of our "Prepare the Way" outreach efforts in 2017, we are investing more resources in our CLD program than ever before.
Troy has a passion to equip leaders and grow the Messianic Jewish community in the nations where we work. He has a unique vision and ability for this important work, and we are truly blessed to have him as part of our team. Together we are raising up a new generation who will continue to grow and build congregations in their local communities, shining brightly as lights in the darkness.
We are committed to making disciples of those who come to faith through our medical clinic outreaches and integrating them into local Messianic congregations. This is the heartbeat of our CLD program and the key to the long-term growth of Messianic Jewish communities in Ethiopia and Zimbabwe.
I often share with you the great work we're doing through our medical clinics, and I'm incredibly grateful for your ongoing support for that important work.
But we are also deeply committed to what happens after our team leaves. It gives me great joy to report to you leaders ARE being trained, and these congregations are growing and multiplying at an amazing rate!
The scattered people of Israel need shepherds. This is the heart of Yeshua, the Great Shepherd: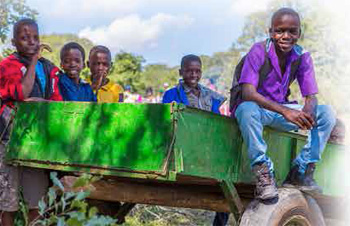 "When he saw the crowds, he had compassion on them, because they were harassed and helpless, like sheep without a shepherd" (Matthew 9:36).
With your ongoing partnership, we will continue our commitment to "raise up the shepherds of Israel" in Zimbabwe, Ethiopia, and in other nations the Lord is sending us.
Let's never again leave the people of Israel "like sheep without a shepherd."
Will you help us raise up a new generation of "Joshuas" who are "filled with the spirit of wisdom" to lead their people into the promised land of faith and relationship with the living God and His Messiah?
Jewish Voice Ministries has the opportunity, with your help, to impact Ethiopia, Zimbabwe, and Jewish communities around the world for generations to come. But we can't do it without you!
Your prayers and financial support are critical. Thank you for your generous investment in the lives of these young Joshuas, the future shepherds of Israel.