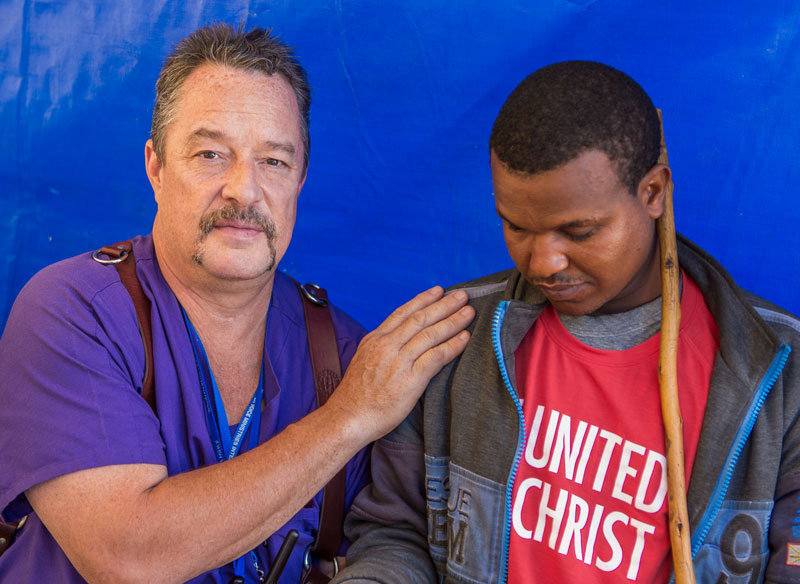 It was the first day of the clinic. There was a sense of anticipation in the air that we knew what was about to happen in the coming days would be amazing. Little did we know that our anticipation wouldn't come close to how great the outcome would be.
Lines of people from the local Bete Israel Jewish community in Gondar, Ethiopia began growing outside the clinic area before it even started as local hires and Jewish Voice staff tried to finish the set-up as fast as possible—many who had been there for days—getting things ready for the thousands we would be serving.
Yet even with the set-up still under-way, a patient got inside the clinic and headed off to the nursing area. It was clear that despite not being ready, the need was so immense that it overshadowed our ability to prepare for it.
Finally, with the work complete, the people in line rushed in to receive the medical care they all so eagerly needed. Local Jewish residents like Manaleh, Kole, Kassage, and Ashete were all hop- ing to get treatment for stomach-related issues and other illnesses.
As they made their way inside the clinic, nurses came and discussed with them the different symp- toms they were suffering from. Then, each was directed to a medical specialist.
Ashete received prescriptions for his leg pain and heart issues, while the other three received vitamins and stomach medicine. The joy on their faces was evident, as they knew that the pain they had been dealing with for years was all being taken away!
After dropping off their prescriptions, Kas- sage was then sent off to the nursing ward for an inspection of some potentially significant health problems. Doctors there prescribed additional medication for her to fight off some life-threaten- ing bacterial infections. Without this checkup, she may have never been aware of the issues or possi- ble consequences of leaving them untreated.
These are just a few examples of what makes these clinics so important to the local Jewish com- munity and why your support is so vital!
After treatment, the group headed to the water and food safety education tent. There they received training on how to make sure that the food and water they ingest is healthy and clean. The education team led the discussion, at the end of which Kole, Kassage, Ashete, and Manaleh all happily received LifeStraws®!
And lastly, the group was given the option of receiving prayer and counseling in the prayer tent. Despite the help they had already received, this was perhaps the most significant stop for them on the trip because it impacted them not just physically, but also emotionally and spiritually. Many received life-transforming healing from the lord!
For Ashete, who was new to the Bible and its teachings, it was unlike anything he had ever experienced before. And although he didn't make a decision to put his faith in God that day, seeds were planted that could eventually sprout into a relation- ship with Him. This is why it's so important that we continue to pray for these precious people and return as many times as we can!
Oh, what a joy it is to serve these people and tell them of Yeshua's love for them!
As the days progressed . . . we continued to see many lives changed by Yeshua. But we also received a special surprise! One of the Gondar leaders shared his gratitude for Jewish Voice's help and support by presenting us with a certificate of appreciation for all that we have been able to do in the region over the years. My friend, this would not have been possible without you!
As we reached the last day of the clinic, even though we were tired… we were expectant…
Over in the cataract surgery area, eye doctors removed bandages from the eyes of those who had undergone surgery. For some, this was the first time they had actually been able to see in many years. One sweet lady smiled in happiness and thanked the doctors as she was able to see again. Literally, blind eyes were made whole on this trip… because of friends like you!
At the main line for the doctor unit, the last group of patients was now being let in. However, this was a sad moment as security had to tell the remaining community members waiting in line that they would not be able to be seen and had to leave.
Many who were waiting in line seemed unable to leave or didn't want to… waiting and hoping that there would be one last opportunity for them to be seen. Despite having accomplished so much during the clinic, our hearts were breaking. The need is still so great! It's impossible to reach them all in one outreach, which is why we must continue to return.
In the end, we found out that despite the large number of people we had to turn away, the total number of patients we were able to serve throughout the clinic was 13,018—the largest clinic in Jewish Voice's history! All made possi- ble because of YOU!
It truly was an amazing outreach in Gondar. But we need your continued support to reach more with the Good News of Yeshua and give life-saving medical care in 2016.
We'll be returning to Gondar in May and would love to have you join us on that trip or on any of our other outreaches throughout the year. Together with your continued support, we can proclaim the love of Yeshua to more Jewish communities around the world! There are still so many suffering and still in need of God's love and medical care. Will you Be His Voice?