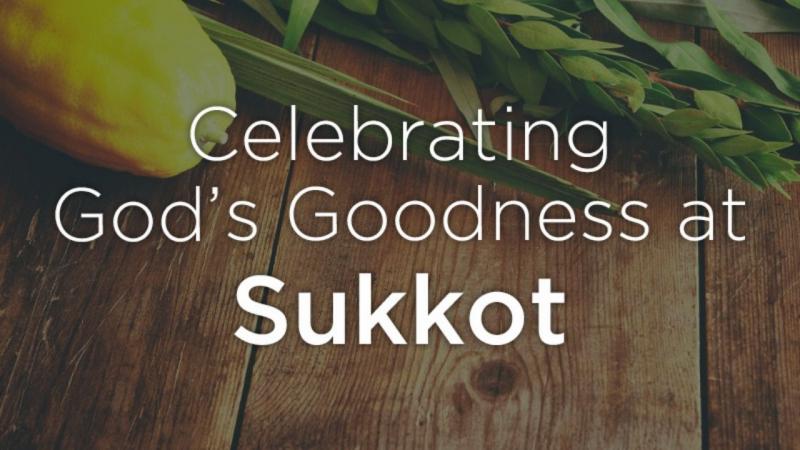 Sukkot is the last of the three Fall Feasts and begins five days after Yom Kippur. The word Sukkot means "booths" or "tabernacles," so the seven-day holiday is also known as the Feast of Booths and the Feast of Tabernacles. 
Sukkot is one of three pilgrimage feasts in which all physically able Jewish men traveled to Jerusalem to make their offerings. The holiday falls around the time of the year's final harvest and is associated with the ingathering of crops and God's provision for His people. Therefore, Sukkot is sometimes called the Feast of Ingathering.
Sukkot is also a commemorative holiday in which God commanded the Jewish people to build and live in booths for seven days. These temporary structures consist of at least three sides and a loosely woven, leafy roof through which the stars can be seen at night. The sight serves as a reminder that God has kept His promise to make Abraham's descendants as countless as the stars in the sky. Families build their sukkot in backyards, on porches or balconies depending on their type of home. Sukkah (singular of sukkot) decorations often include hanging fresh fruit from the ceiling and incorporating other natural beauty that reflects God's bountiful provision. A family will typically have meals in their sukkah, often inviting guests to join them. Some families choose to sleep in their sukkot.
Sukkot remembrances
Along with the reminder of God's faithfulness to His covenant to Israel, Sukkot stirs our memory about God's provision for the Israelites in the wilderness. He performed wonders to provide His people with food and water in a dry and barren land. Aside from this, for 40 years, their clothing and shoes did not wear out.
God with us
Looking back to the Israelites life in the desert, we also remember that God's presence dwelled with them. He never left them, day or night. He had called them out to be a people unto Him and promised that He would be their God. He dwelled among them in a pillar of cloud by day and of fire by night. He commanded the building of the tabernacle as a place for His glory to dwell among them. The booths of Sukkot speak of God's presence with us today.
Sukkot is celebrated at harvest time, adding to the array of reminders of God's bountiful provision for us.
Sukkot rejoicing
The Torah spells out God's commands for Sukkot in Leviticus 23, Numbers 29 and Deuteronomy 16. Sukkot is unique in that it is the only feast in which God commands us to rejoice. Israel was to do no work on Sukkot's first day, and God instructed them to rejoice for seven days. One symbol of this rejoicing is called "the waving of the lulav." God told Israel, "take choice fruit of trees, branches of palm trees, boughs of leafy trees, and willows of the brook, and rejoice before Adonai your God for seven days" (Leviticus 23:40). Today, this bundle of vegetation is called a lulav and includes an etrog, a large lemon-like fruit, and branches from each of the three kinds of trees God commanded.
Celebrating for the future
Like all the biblical Feasts of the Jewish year, Sukkot contains a prophetic image of God's plans to complete our redemption. As a harvest feast of gathering in crops, Sukkot depicts the fulfillment of God's promise to regather the Jewish people to the Land of Israel, something He began in an exciting way in 1948 when the State of Israel was reborn overnight. He continues calling His people from the corners of the Earth, placing in them a burning desire to go "home" to the Land of their forefathers. Sukkot also depicts His final gathering together as His family at the end of the age when we will dwell with God forever.
The seven days of Sukkot 2020 begins at sunset Friday evening, October 2 and ends at sundown Friday, October 8. God gave commandments for an eighth day as well. The seven-day period of rejoicing and living in a sukkah is finished, and on this eighth day, God commanded a Shabbat rest and a holy assembly, as He did on the first day of Sukkot. This eighth day is called Shemini Atzeret, and serves as a conclusion to the Feast of Sukkot. Shemini Atzeret is observed one day in Israel but two days in the Diaspora. The second day is called Simchat Torah.  Shemini Atzeret 2020 begins at sundown Friday, October 8 and ends at sunset on October 9 as Simchat Torah begins.