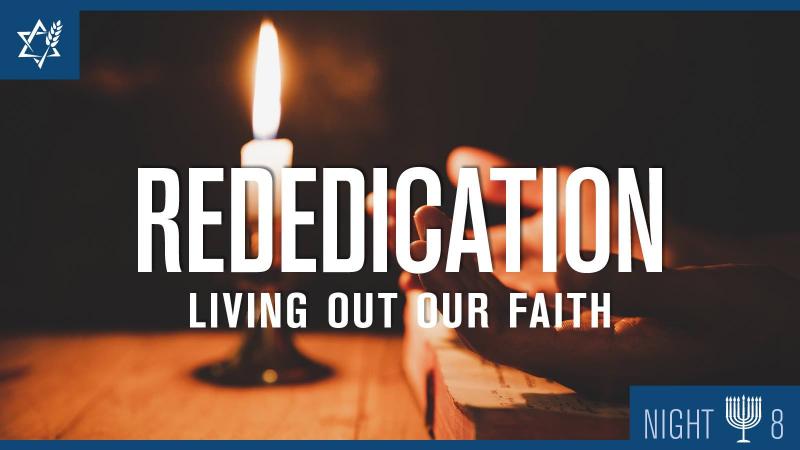 On this eighth night of Chanukah, we reflect on rededication in a way that calls us to live out our faith in the Lord in such a way that serves others and glorifies Him.
Messianic Jewish Chanukah Blessings
Place eight candles in the chanukiah tonight, setting them in the holders from right to left. As you light the Shamash, or Servant Candle, recite the Messianic Jewish Chanukah blessings:
Blessed are You, LORD, our God, King of the universe, who has sanctified us with Your commandments and has given us Yeshua the Messiah, the Light of the World.
Blessed are You, LORD, our God, King of the universe, who has performed miracles for our ancestors in those days at this time.
Candle Lighting
Using the Shamash, light the Chanukah candles in the opposite direction from which you placed them in the holders. Light them from left to right. Return the Shamash to its place. Let the candles go out on their own. They should burn for a least half an hour.
Devotion
Last night we talked about rededicating ourselves to pursuing more faith and trust in God. On this final night of Chanukah, we engage in this Feast of Dedication by looking outward to how our lives of faith touch others. An enormous expression of faith is obedience, and the Bible is filled with the Lord's instructions for how He wants us to live our lives.
The bigger our faith and the more we trust God, the more we are freed from worrying about our own lives and can extend His love to others. As we walk in the power of the Holy Spirit He has given us and obey the Lord, we honor Him and show the world His goodness. As we love our neighbors as ourselves (Leviticus 19:18 and Mark 12:31), as we forgive and pray for even our enemies (Matthew 5:44), we reveal a God like no other. His love is beyond comprehension, and He has chosen us to show it.
Chanukah is the perfect time to rededicate ourselves to serving others through the good works the Lord prepared beforehand for us to do (Ephesians 2:10).
From the Lord's Word
Trust in Adonai and do good. Dwell in the land, feed on faithfulness. ––Psalm 37:3
Let kindness and truth never leave you— bind them around your neck, write them on the tablet of your heart. ––Proverbs 3:3
Therefore, since we have such a great cloud of witnesses surrounding us, let us also get rid of every weight and entangling sin. Let us run with endurance the race set before us. ––Hebrews 12:1
With respect to your former lifestyle, you are to lay aside the old self corrupted by its deceitful desires, be renewed in the spirit of your mind, and put on the new self—created to be like God in true righteousness and holiness. ––Ephesians 4:22–24
Prayer
Father, thank You for how You reveal Yourself through Your people. You have cared for us through the loving acts of others, and we are blessed to pass on Your love in the same way. As this Chanukah comes to a close, we rededicate ourselves to serving and loving others as You have commanded us. Make us more mindful of the needs of others. Make us more willing to serve. And draw us to intercede for all You bring to us who need Your grace in particular ways. Lord, may we become the living testimonies to Your goodness and love that You desire us to be.