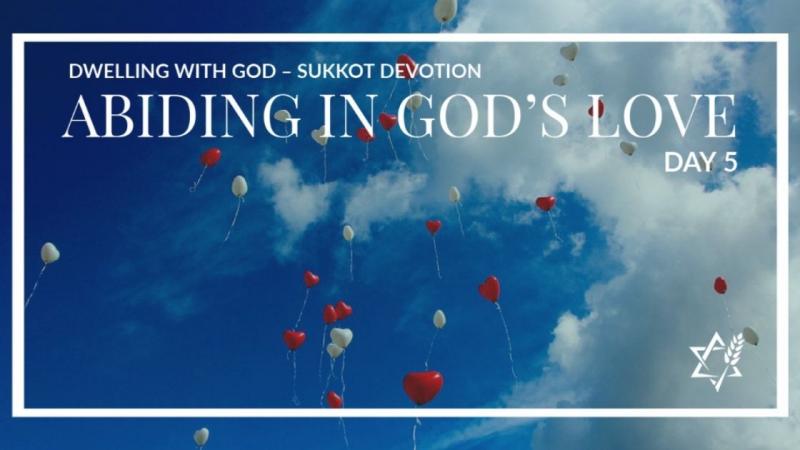 Abiding in God's Love 
"Just as the Father has loved Me, I also have loved you. Abide in My love!" 

––John 15:9 
Imagine if you could live in a structure that is made of love itself. It sounds cozy and safe, doesn't it?  Well, God invites us to take up residence in His love. He wants us to dwell with Him each day within the secure abode of His overflowing love. His love surrounds and shelters us like the walls and roof of a home. 
For we who believe in Jesus the Messiah, our home is with God, and He has made His home in our hearts through His Holy Spirit. We know this is true, yet in our daily experience, we're still learning to abide in God's love, to remain and rest in it. We tend to float in and out of it according to how we feel or how faithful we are at walking in His ways. 
However, God's love is unchanging, and He doesn't lock us out of the house when we fail. On our worst days, His love and welcome are the same. The truth is, even on our best days, we don't deserve His love. It is pure grace. He loves us because He is love (1 John 4:8).  
It takes practice to spiritually abide in God's love as we live in this tangible world that so often accepts or rejects us based on how well we perform. It takes faith – believing and remembering that nothing can separate us from His love (Romans 8:35–39) and that He wants us to dwell continuously in that awareness. 
As we make every effort to meditate on, believe and receive God's love, we learn to make it our dwelling place so that even as we go about the business of daily life, we are abiding at home in His love. During Sukkot, let's rejoice in His marvelous love and seek to grasp its fullness. 
"Since Your lovingkindness is better than life, my lips will praise You." 

––Psalm 63:4 
"So that Messiah may dwell in your hearts through faith. I pray that you, being rooted and grounded in love, may have strength to grasp with all the kedoshim [holy ones] what is the width and length and height and depth, and to know the love of Messiah which surpasses knowledge, so you may be filled up with all the fullness of God." 

––Ephesians 3:17–19 
Dwelling with God amid COVID-19 
During this season, when we're not spending as much time with others as we used to, we have the opportunity for "stay-cations" with God. Plan some intentional time to focus on God's love for you. Explore Scriptures about His love, and catalog them as you come across them in your regular Bible reading. Collect them to review often and be encouraged to remain consciously abiding in His love.