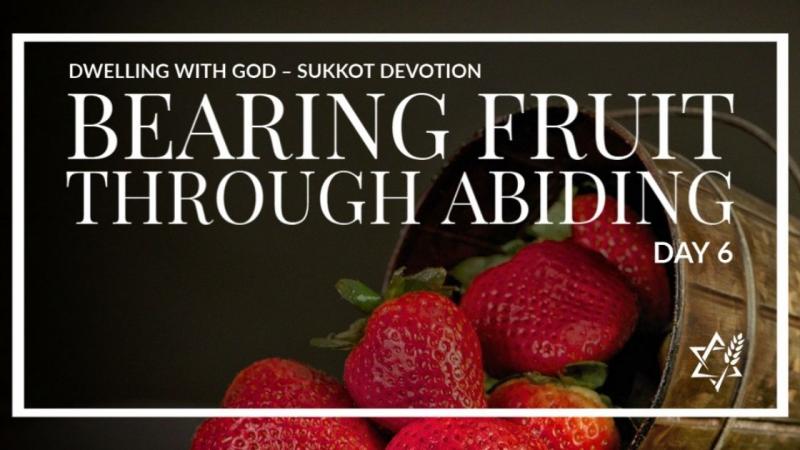 Bearing Fruit through Abiding 
"I am the vine; you are the branches. The one who abides in Me, and I in him, bears much fruit; for apart from Me, you can do nothing." 

––John 15:5 
Jewish families often decorate the sukkah in their yard with a harvest theme, representing God's bountiful provision. Traditional adornments include hanging fruit from the ceiling. This is a fitting illustration of God's harvest gifts and also of the effects that abiding in God's presence has on our lives. 
Dwelling with God produces fruit. The fruit of His Spirit grows in us, revealing that we are abiding in God (Galatians 5:22–23). These fruits – love, joy, peace, patience, kindness, goodness, faithfulness, gentleness, and self-control – show the world around us who God is. People see God in us when we bear His fruit. 
This fruit leads to actions that bless others with encouragement, help, wisdom, hope and more. The Bible instructs us to lift one another up, look out for others' needs and strengthen the weak. God ministers to people through the fruit and gifts of His Spirit given to each of us who believes in Jesus.  
This fruit emerges from abiding in – dwelling with – God. Spend some time reflecting on the joy that comes from making a difference in someone's life. Consider the privilege of God using you to reflect His goodness and love through the fruit He bears in you. Ask Him how He wants to use you today, and rejoice that His presence with and in you bears beautiful fruit. 
"For he will be like a tree planted by the waters, spreading out its roots by a stream. It has no fear when heat comes, but its leaves will be green. It does not worry in a year of drought, nor depart from yielding fruit." 

––Jeremiah 17:8 
"…bearing fruit in every good work and growing in the knowledge of God." 

––Colossians 1:10b 
"And let us consider how to stir up one another to love and good deeds." 

––Hebrews 10:24 
Dwelling with God amid COVID-19 
Many of us are working from home during COVID-19's ongoing concerns. Cities have various restrictions in place, social distancing guidelines and other conditions that are just not normal for us. It can mean that we have less face to face interaction with people outside our homes and families, and maybe fewer opportunities to bear fruit for the Lord in ways we're used to. But thanks to technology, we can stay connected and continue to lift one another up. COVID inconveniences don't interfere with one of the most important ways to bless others: through our prayers. So, stay in the Word, keep abiding in God's presence, and let His fruit flourish in you.