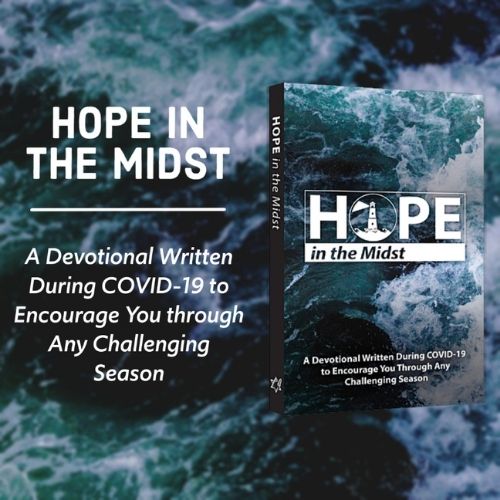 The first waves of the coronavirus in the spring of 2020 seem like forever ago, don't they? It's sometimes hard to believe we're still dealing with this disturbing, disruptive pandemic. 
Little did we at Jewish Voice know, when we began a blog series to offer hope and encouragement in the midst of the lockdown efforts to curb the virus, that things would last long enough to extend the series to nine weeks. 
Then, when we realized the devotions are relevant to any tough season of life and decided to compile them into a book, we thought that surely by its release, COVID-19 would be a memory.
Yet here we are, still in the midst of it all and still needing to hear words of hope.
NOW AVAILABLE
Hope in the Midst is a collection of nine separate devotional series, each seven days long and authored by various Jewish Voice staff members during the first several months of the coronavirus pandemic.
This devotional is the perfect gift to encourage your friends and family this holiday season!
Each devotional set is focused on a different book of the Bible, and together, they create a resource to find hope in the midst of any trial you face. At the same time, Hope in the Midst is a snapshot of a period in history when most of the world stayed home in a season of isolation that vastly altered our lifestyles as we tried to stop the spread of the coronavirus global pandemic of 2020.
Hope in the Midst is a book that can be revisited during any season of difficulty, suffering or uncertain waiting – to lift your spirits and refocus your heart on God's hope that is always in our midst.
Get your copy today to bolster your faith and keep as a treasured resource to help you through any of life's challenges.