When we first visited Gutu, Zimbabwe, in 2014, 75-year-old Mandinyenya spent five hours waiting to get into the Clinic and said it was well worth the wait. He also said, "I want the people in America to pray for us. And I want the Clinic to come back again!"
We did return to Gutu, and, now, we are going again. It's been three years since our last visit. The fact that Jewish Voice is bringing another free Medical Clinic to the area is, no doubt, good news to the people of Gutu. However, we desire to bring more than just medical treatment. We hope to see people deeply impacted by THE Good News: salvation through Yeshua (Jesus). And like Mandinyenya, we too hope for prayer covering – yours, from wherever you are ̶ for the people of Gutu, our team ministering to them, and the whole region.
Please sign up to help cover this Outreach in prayer from wherever you may be and at a convenient time for you. Here is a day-by-day prayer guide to help you stay in step with what we are doing and know how to pray: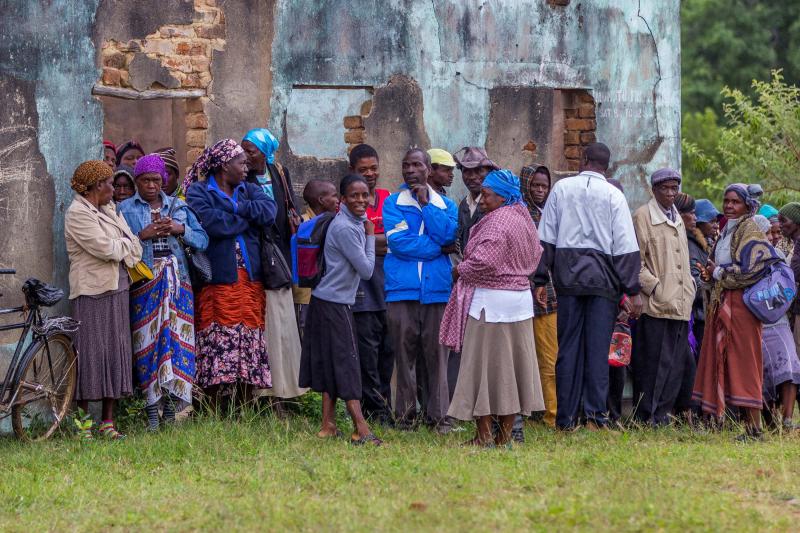 Please pray day by day for:
Wednesday, August 21–Wednesday, August 28 ▪ Isaiah 40:3–5
Protection for our staff team members as they travel and arrive early

Favor as they conduct in-country preparations

All logistics to be in place and physical preparation of the site to be completed safely

The area to be well prepared spiritually through prayer for the Kingdom of God to come in power
Thursday, August 29 ▪ Proverbs 3:6
Smooth travel days, without incident, for our Outreach Partners

All belongings and luggage to arrive safely as well

God to spiritually prepare Outreach Partners even as they travel, including speaking to their hearts and encouraging them
Friday, August 30 ▪ Numbers 6:24–26
Blessing over family members and personal matters at home while our Outreach team and partners are away

Unity of the Spirit, right from the start, so we can have one heart and one mind and operate as one body

Each team member to experience the Lord's presence with great gratitude as well as restful sleep and peace in their accommodations
Saturday, August 31 ▪ Psalm 19:14
Quick recovery from travel and jet lag and ease in adapting to new foods, culture and sleeping arrangements

Successful orientations for each area of the Clinic and Outreach so that everyone knows their responsibilities and can focus on loving and serving well

Diligence in ensuring clear communication and good relationships
Sunday, September 1 ▪ Ephesians 4:16
Great wisdom and discernment in hiring local workers, and for physical and spiritual protection of the Outreach location

The Medical Clinic itself as we open today for a half-day of serving those who come

Each partner to serve with humility in a manner that blesses others and to trust in the Lord and reflect Yeshua regardless of the circumstances
Monday – September 2 ▪ Philippians 2:3–5
Many to be treated and ministered to today, the first full day of the Outreach, and all elements of the Clinic to be well strategized and working smoothly

The Good News to be proclaimed clearly through word and deed

Visiting authorities to be favorable and blessed by what we are doing
Tuesday – September 3 ▪ James 1:17
The Zehra Kids Program – effective leadership and ministry to many children as well as their families

The Lord's loving care over all who serve and all who are treated, including physical, spiritual, mental and relational protection; and protection for all the physical equipment as well

Powerful times of worship and prayer each morning, and during the special evening meeting on Wednesday
Divine encounters – salvation, healing and deliverance – in the Prayer Room and the Clinic that change lives
Wednesday – September 4 ▪ John 6:37
The message of the Good News and new life in Yeshua (Jesus) to go forth with clarity and consistency accompanied by signs and wonders

Physical healing, spiritual deliverance, and salvations through the Good News of Yeshua

Great weather all week – cool, but not cold – and a good night's sleep every evening
Thursday – September 5 ▪ Luke 17:5
Energy and high, faith-filled spirits to continue through the week

The fragrance of Yeshua and impact of the Good News to remain and spread even after we leave

Continued favor and goodwill with the local leaders and civil authorities in the area
Friday – September 6 ▪ 2 Timothy 2:15
God's grace to serve as many people as possible on this last half-day of the Clinic; and shalom when we must close our doors

Safety and efficiency tearing down the campsite and packing up the Clinic

True peace and rest as we enter Shabbat and testify to all the wonders the Lord has shown us during the week
Saturday – September 7 ▪ Isaiah 40:31
Continued stamina for our JVMI team members as they tend to closing details

Rest and renewal as our Outreach Partners begin to debrief and relax from the busy week of ministry
Sunday – September 8 ▪ Psalm 96:1–3
Safety for Outreach Partners as they leave Zimbabwe, travel home to family and return to jobs and "everyday life;" and that all their bags would arrive with them

Local congregation leaders to be faithful and effective in conducting the follow-up among those who are open to it

Those who received Yeshua– that they would be open to discipleship and becoming part of a congregation

The Good News of Yeshua to spread throughout the region
Let's pray:
Father, Abba, thank You for sending Yeshua to die for us and His Spirit to live in us. Thank You for each person serving on this Outreach and for each one praying for it. May many people come and receive medical care, hear about and believe in Yeshua. We ask You for the best of Good News in Gutu – that Jewish people and their neighbors would be saved. In Yeshua's name, Amen.