Israel prepares for war while the U.N. sticks its head in the sand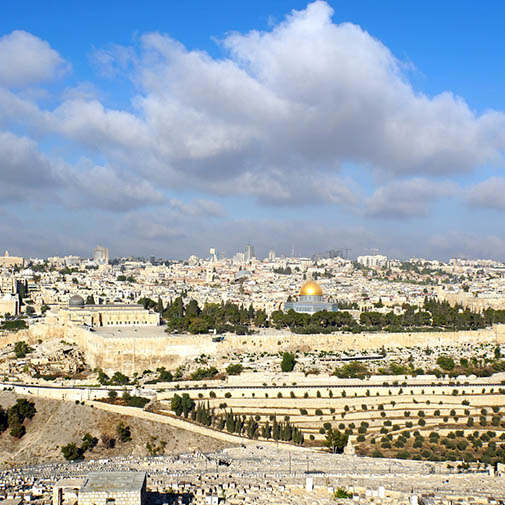 In the midst of the continued political stalemate in Israel, the region is facing the potential for war with Iran.
And if the words of the Deputy Commander for Operations of Iranian Revolution Guards, Abbas Nilforoushan, can be believed, the threat is significant.
Speaking openly about the conflict between Iran and Israel, Nilforoushan said:
"Iran has encircled Israel from all four sides. Israel is not in a position to threaten Iran. If Israel makes a strategic mistake, it has to collect bits and pieces of Tel Aviv from the lower depths of the Mediterranean Sea. Nothing will be left of Israel."
These disturbing words come after months of Israel preempting larger-scale attacks by Iranian forces and Shiite militia troops.
As I shared with you in recent weeks, Israeli intelligence in Syria uncovered stockpiles of military equipment, Iranian missiles and drones with the capability of carrying several kilograms of explosives.
And while Israel's preemptive airstrike to destroy these weapons was successful, Iran's devastating attack on Saudi Arabia's oil facilities last month has placed Israel on high alert for an attack that has every indication of being more sophisticated and deadlier than expected.
An initial evaluation of the massive damage on the oil facilities shows that the Iranians managed to bypass the radar of the Saudi's American-made Patriot missile batteries in a sophisticated, highly coordinated attack, using a combination of drones and Iranian-built cruise missiles.
Israel prepares for war
Early this week, Prime Minister Benjamin Netanyahu urgently made a move to supplement Israel's budget to improve their missile defense system in identifying incoming cruise missiles.
But even as the world watches, knowing Iran's devastating threat against Israel, the U.N. continues to stick its head in the sand – ignoring Iran's aggressive actions.
Just last week, Iranian President Hassan Rohani was welcomed with open arms at the annual meeting of the United Nations General Assembly in New York City.
This royal welcome in New York took place even as Russian, Iranian and Syrian government forces launched their first joint exercise in Syria's Deir ez-Zour region. In fact, it's their first combined drill anywhere else in the Middle East.
And its significance isn't lost. For the first time ever, the Russian military is openly revealing their involvement with Iranian forces: both directly and by proxy.
Russia joins the threat against Israel
It's also been reported that Moscow has begun making use of the Al Qaim-Abu Kamal border crossing between Iraq and Syria, which was only reopened less than a week ago after eight years of war.
Heavy Russian military vehicles from Black Sea bases have been rolling into Syria through the newly opened crossing – cementing their presence on this route. Russia's shared presence on this route will make it hard for Israel to attack the land corridor forged by Iran when it uses the same border crossing and route as the Russians.
These are the various developments behind Prime Minister Netanyahu's recent statements on the worsening of the Iranian threat and the change in the security situation. It's also the basis upon which Netanyahu says makes the establishment of a unity government – headed by him – so essential.
"We are facing an enormous security challenge that is growing and worsening from week to week," the Prime Minister said last week.
While I believe peace is always the answer, Israel has every right to defend herself against the aggression of any enemy that seeks to wipe away her very existence.
The truth is, tensions within the region have never been higher. And we need to trust God to move in hearts now …
The only answer, and the greatest thing any of us can do, is to commit our lives, hearts and prayers to supporting Israel and the Jewish people.
Please pray with us on behalf of Israel and her people. Pray for God to:
Move in our hearts – to stir us with a new, fresh resolve and concern to stand with and support His people

Remember His promise in Zechariah 12 to protect His people from the enemies that surround them on all sides – whose hatred burns deep and hot, simply because Israel exists

Give Israeli leaders wisdom, insight and discernment as they take moves and lead initiatives to defend themselves
Change the hearts of Israel's enemies – to move them away from hatred and animosity
Open eyes and hearts of the Jewish people and their neighbors, to experience and encounter Yeshua (Jesus), the Messiah, the "Prince of Peace"
Give a generous gift to stand with Israel and support the Jewish people