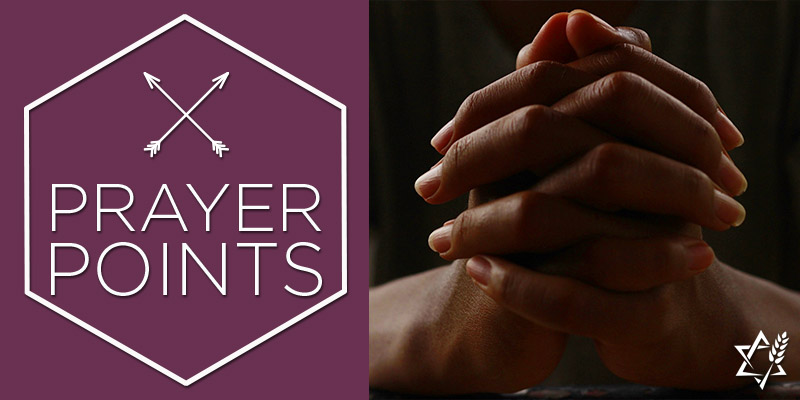 It is time for our Spring Week of Prayer and Fasting here at Jewish Voice. These twice-yearly corporate experiences have a significant impact on our ministry. We believe this year's time of being in the Lord's presence will influence the road ahead that He is calling us to travel together.
For each day during the week, we have a different Scripture theme. Will you pray for the Lord's presence to be upon us and on this dedicated time? Here are our themes so you can pray along with us:
So All Israel Shall Be Saved • Romans 11:26–27
Lord, we desire to see all Israel – all the Jewish people – come to know Jesus as the Jewish Messiah and Savior and be saved. Fuel us with faith to see this Scripture fulfilled. May this burden burn in our hearts and inform each prayer and decision.
Call A Sacred Assembly • Joel 2:1, 12, 15–18
May You mark this set-apart time with a deep sense of the movement of Your Holy Spirit. We are sobered by the understanding that Your return is closer than ever before. We come together in fasting and prayer to ask that You would spare Your people and be jealous for Your Land.
For Such a Time as This • Esther 4:14
We could not have imagined we would be going through such a time as this. Please help us be fully prepared as a ministry to step even further forward in seeing the salvation of the Jewish people, even during challenging times like these. May we be even more fervent because of times like these.
Remove the Leaven • 1 Corinthians 5:6–8
Father, just as we prepare for Pesach (Passover) by removing anything made with yeast from our homes, so too we want to be cleansed and purified in our daily lives. May we, with Your help, recognize and deal with anything in our hearts and habits that is not of You, so that we can live in sincerity and truth.
Moving Forward with His Presence • Exodus 33:14–15
Oh, Lord, we can't do this in our own strength, under our own willpower and wisdom. We must have Your presence with us, and we won't dare to move forward without You. We don't ask You to bless our plans – we ask You to show us Your way and be with us every step and every moment.
We are so thankful to the Lord for His faithfulness to Jewish Voice Ministries for over 50 years. In this new era, we continue to trust Him to guide, equip, provide and open doors for us to take the Good News to the Jewish people. We are utterly dependent on Him and only want to go where He goes. And so, we worship, pray, and fast. Will you join us in this prayer?
LET'S PRAY:
Lord, we are hungry for You, and we are pursuing You – for such a time as this. Give us an enlarged capacity for prolonged times of worship, prayer, and simply tarrying in Your presence. We invite Your Holy Spirit to move among us. Do the work of spiritual preparation, provision, and equipping. Prepare the way You are calling us to go and how You are leading us to minister this year and beyond. We devote our weeks of prayer and fasting, as well as our times of worship and prayer every week, to You, knowing You will do exceedingly abundantly more than we ask or think. In Yeshua's (Jesus') name, AMEN.