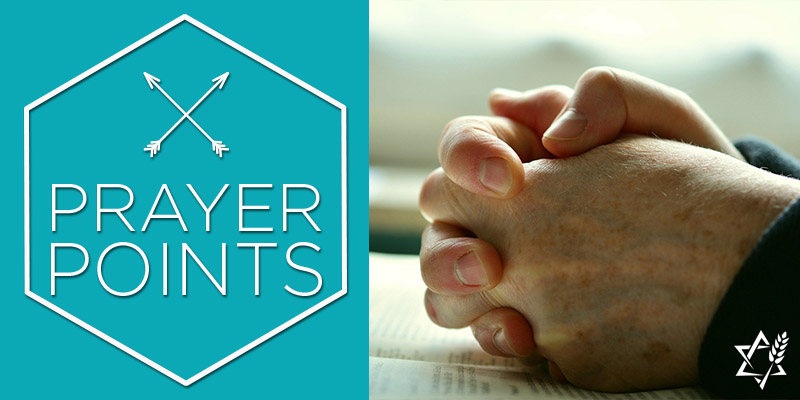 It's almost Purim, which celebrates the Jewish people's rescue from the evil plot of Haman, an anti-Christ figure. Key to this biblical account is Esther, a young Jewish woman who became queen of Persia. In a time of crisis, her relative Mordecai persuaded Esther to stand before the King on behalf of her people. Can you quote Mordecai's famous exhortation to her? He told her, "For if you remain silent at this time, relief and deliverance for the Jews will arise from another place, but you and your father's family will perish. And who knows but that you have come to your royal position for such a time as this?" (Esther 4:14).
Are we hearing God's call to us – to stand in prayer for such a time as this? In this current season, it seems certain that world events are colliding with prophetic timelines in ways that take our breath away and send us to our knees. Anti-Semitism is again on the rise, and Jewish people not only need protection in that regard but they also urgently need the good news of salvation through Yeshua (Jesus). Like Esther, we are being called to take our place on their behalf in just such times as these.
What can we take from the book of Esther as inspiration for prayer points? Here are a few.
Let's pray for:
Jewish people to know the urgency of the hour and seek salvation, finding it through Messiah Jesus
Governmental and other leaders to not be persuaded into legislation that has consequences they don't fully understand and which are against God's Chosen People
Us to be like Mordecai, a watchman on behalf of the Jewish People – not only advocating but also praying for them and sharing Jesus
Each of us as Jewish and Gentile Believers to take our authority as intercessors before the King of Kings and make our requests known to Him in agreement with His word that says, "all Israel shall be saved" (Romans 11:26)
God's Spirit to enable us, through intercession, to discern and intercept the enemy's schemes against Israel and the Jewish people
Us to count the personal cost like Esther, stepping out in faith to pray and see Jewish people come to know Yeshua as Messiah and Savior
Jewish Voice to evade the enemy's plots and receive strategies from the Lord to reach Jewish people
By the way, as you read this, our Medical Outreach to Ethiopia will be almost complete. Outreaches like this are one of the ways we are putting our faith into action to reach out and see Jewish people accept Jesus – for such a time as this. Please step into your authority as those who stand before the King of Kings, and pray rear guard prayers for this Outreach with us.
Let's Pray:
Lord, we ask for Your protection over all the Outreach participants traveling home, for the Ethiopian community and brand new Believers. Please help congregational leaders from outside the area as they do follow-up work to see a new congregation established in the region. And Lord, please pour out fresh courage and passion upon all of us to see Jewish people around the world come to know You in greater numbers than ever before. May we take our stand together in action and prayer on their behalf – for such a time as this. In Jesus' name, AMEN.