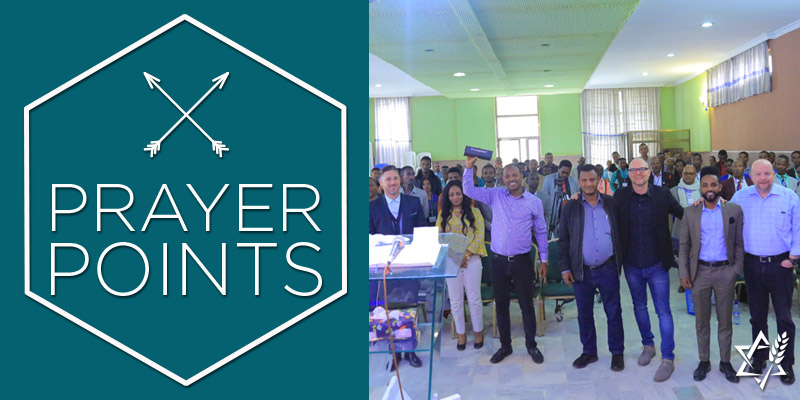 Have you heard of our Congregation and Leadership Development (CLD) Department? That's a long name, but it does identify what this team does – develops congregations and their leaders. One way we do this is through visits to the countries with the most Jewish Voice-affiliated Messianic congregations. Currently, those are Zimbabwe and Ethiopia.
Generally, we conduct Messianic Leadership Trainings (MLTs) in both nations every year, with Rabbi Jonathan Bernis and several of our other leaders sharing relevant teaching and strategic instruction. In addition, each year, key CLD team members make congregational visits there as well. Although more informal than the MLT trips, these are vital, intentional times of fellowship, encouragement and equipping for the congregational leaders and others.
Due to all the travel changes and constraints this year, both internationally and within nations, we've been unable to make these visits. However, we are excited to let you know that two of our CLD leaders are taking a special trip right after you receive this email, from November 27 to December 10. They will meet with Messianic congregational leaders in Ethiopia and Zimbabwe. These in-person interactions are so important, and this trip will be a timely touchpoint and opportunity for our two staff leaders to minister to those serving the Lord in Messianic congregations there.
They are so glad to be going and appreciate your prayers.  Here are some of the ways you can pray for them and the fruit of their ministry while there.
Please pray for them:
November 19–December 5, as they visit congregational leaders from the Beta Abraham, Bete Israel and Gefat Jewish people in Ethiopia.
December 5–9, as they visit the Lemba Messianic congregational leaders in Zimbabwe.
Please pray for:
Safe travel, of all kinds, to and from Africa, from Ethiopia to Zimbabwe and back, and within each nation

Protection from all injury and illness and that each COVID-19 test required for their travels will be clean and clear, enabling them to make all their travel connections with ease

All their luggage to arrive at each destination with them and in excellent condition

The Lord to prepare the way and open the hearts of each person they will meet with, including any unscheduled, divine appointments

Every leg of their journeys and each ministry time to be free of interruptions and interference of all kinds
Join us in praying for fruitful meetings, effective teaching times and engaging and relevant discussions. Pray also for Holy Spirit-led ministry to the teams in each nation, with prophetic words and personal encouragement that strengthens the leaders to move forward and lead well.
Let's pray:
Lord, thank You for these two CLD leaders who are traveling to minister in Africa. Watch over them, and their families, while they're gone. Father, may the kingdom of darkness recede and the Kingdom of the Son, whom You love, advance as You use these JVMI staff members to equip the indigenous leaders in Ethiopia and Zimbabwe. May they be fully surrendered in following You as under-shepherds among Your flock, and may You receive all the glory from the fruitfulness of this trip. In Jesus' name, AMEN.