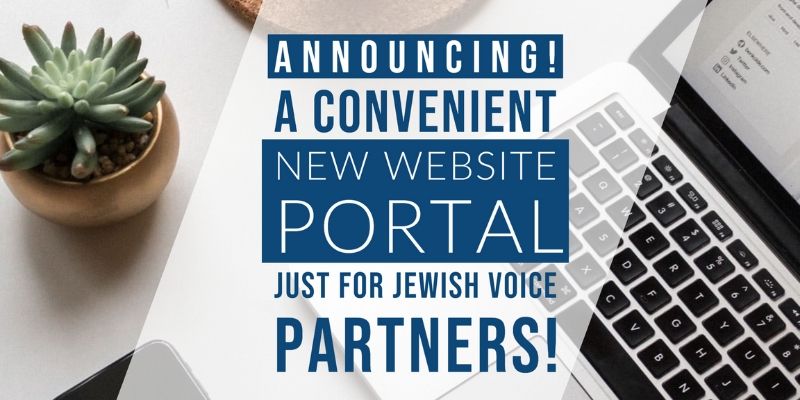 There's an exciting new feature to the Jewish Voice website. You can now access all your giving and shipping information in one convenient place. The JVMI Partner Portal enables you to look up information without having to call in. Of course, we love talking with you, but we know that sometimes it's just more convenient to log in and find the information yourselves. Now you can.
With the new JVMI Partner Portal, you can:
View your giving history for the last 10 years
With your giving history organized by year, you can quickly look up the amounts and dates of each of your gifts to Jewish Voice as well as the totals for any year.
View your shipping history
Wondering how soon that resource you requested will arrive? Now you can log in to your Jewish Voice account and track the shipment. You'll be able to see all your resource requests from 2020 forward, including items ordered, dollar amounts, and dates shipped along with handy links to track shipments.
Update your automatic electronic giving
If your recurring gift to Jewish Voice is automatically charged to your credit card, you can now log in to the Partner Portal to make changes to your arrangement. You can update an expired card, designate a different card and change the amount of your monthly donation. You can even adjust the date on which you want future contributions made.
Keep track of your tax information
The JVMI Partner Portal presents your giving information in an easy-to-read format that will help you accurately account for the tax-deductible portions of your gifts and resource requests.
Update your contact information
Letting us know your new address, phone number or email address is quick and simple: just log in to your JVMI account, and update your profile with the new information.
The new Jewish Voice Partner Portal is secure and easy to use. To get started today, click the Register button below. Complete a short, simple form, and you're on your way. We think you're going to love having all your JVMI partnership information at your fingertips, any time day or night.
And while you're here reading, allow us to thank you for sharing your love of the Jewish people with us. We are thrilled that you have chosen to partner with Jewish Voice Ministries to proclaim the Gospel, transform lives and see all Israel saved. You're reaching lives with humanitarian aid and the hope of Jesus. You're making a big difference. Thank you!