Holidays can be especially lonely for Holocaust survivors who have no relatives nearby. But many members of this unique generation have found a family in the community of fellow survivors brought together by JVMI's ministry partners in Israel who conduct Bible studies, home visits and special events for them.
Recently, one such event took place when Holocaust survivors were invited to a Passover Seder. They enjoyed a delicious Passover meal and dined to live music performed by a Messianic worship team. Throughout the Seder itself, guests heard the leader explain the amazing symbolism of Yeshua (Jesus) as the Lamb of God represented in the various Seder elements. The Jewish holidays provide exceptional opportunities to bring up a discussion of Yeshua (Jesus) as there are so many connections we can show between Him and the Biblical Feasts.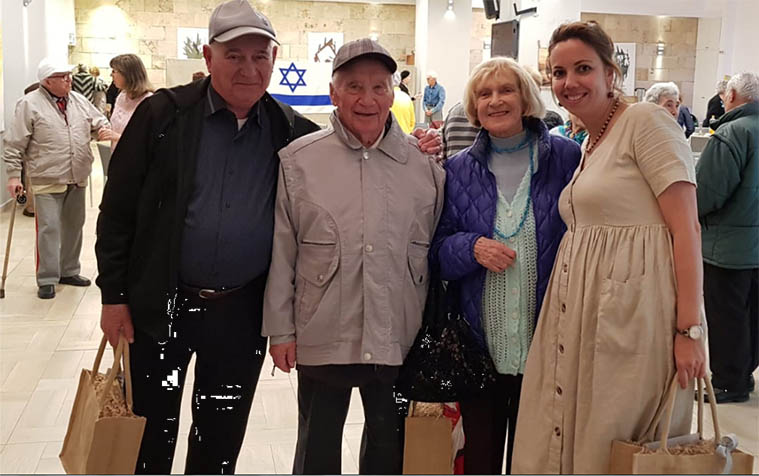 Each guest received a beautiful Passover gift bag from Jewish Voice Ministries International (JVMI). The gifts included halvah (hal-VAH) – a sweet, Middle Eastern treat made from sesame seed – plus an assortment of teas and a pair of mugs. The attached card affirmed God's tremendous love for each of the recipients. JVMI gave out 100 gift bags at the event. The whole evening was a lovely celebration, and everyone had a marvelous time. 
JVMI's ministry to Holocaust survivors is not like our Medical Outreaches to Africa where hearts are more open and ready to receive Yeshua. Many of these people witnessed or endured horrific acts of violence. Some of them saw their parents, siblings and other relatives killed before their very eyes. 
After what they've gone through, many Holocaust survivors do not believe in God at all. As we minister to them, the kindness and compassion we show helps open their hearts to believe in Him again. 
"It is a process," says a JVMI staff member in Israel. "We need to continue and not give up. It is working. God is softening hearts." 
At the same time, the ministry is urgent. The people who endured the Holocaust as children are now elderly and thousands of them die in Israel each year. 
We greatly appreciate your ongoing prayers for Holocaust survivors in Israel and our ministry to them.