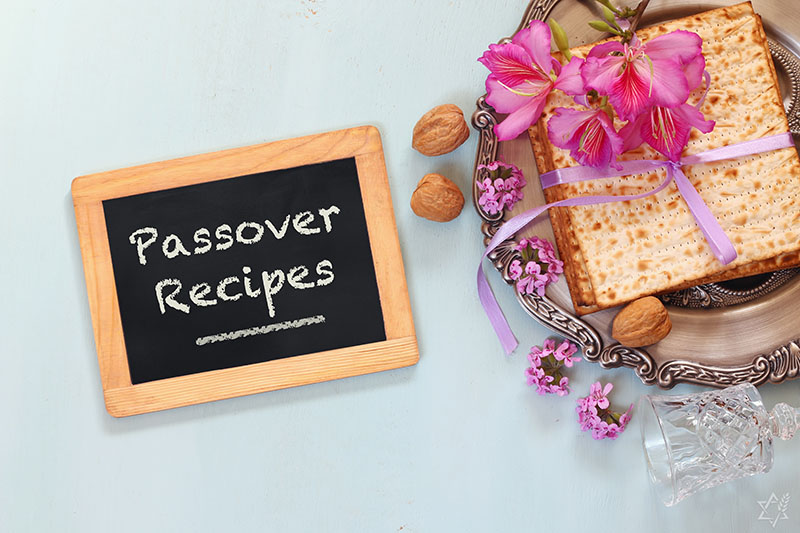 Passover is a one of the most important holidays on the Jewish calendar. It commemorates God's mighty hand in delivering the children of Israel from 400 years of slavery in Egypt. For Messianic Jews, Passover is a time to remember and declare the wonders of Passover and also commemorate the gift of God's grace in sending His Son Yeshua (Jesus) to deliver us from slavery and sin.  As the apostle Paul writes, Yeshua is our Passover lamb. Messianic Jews rejoice in the astonishing symbolism of Yeshua throughout the Passover celebration.
Passover is also called the Feast of Unleavened Bread, and the Passover Seder includes a special holiday meal. As commanded by God in Leviticus 23, Jewish people and Messianic Jews abstain from eating any yeast―or leaven―products during the week of Passover. Traditional Passover foods include roast lamb, beef brisket, matzah ball soup, fancy vegetables, and matzah kugels. And of course, there are delicious desserts, all made without using any yeast.
Whether you are Jewish or a Christian discovering your Jewish roots of New Covenant faith in Yeshua, we know the planning of your Passover meal is important. So, we've collected some recipes from our staff and put together a Passover menu and recipes for you to enjoy.  Chag Sameach! Happy Holiday.
 
1. Matzah Ball Soup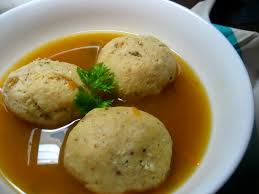 Submitted by Rebbetzin Sandie Zimmerman, wife of Rabbi Jack Zimmerman, Senior Rabbi at Tree of Life Messianic Congregation and Jewish Voice staff member since 2004. Sandie doesn't use written recipes but cooks from memory using recipes handed down to her from her and Jack's grandmothers. This recipe admittedly uses some estimated or generalized measurements, estimated times, and a lot of "to taste." That's just how it is with some of the best cooks!
For this traditional Passover soup, you'll need to begin the day before.
Ingredients
Broth
Water
Kosher whole chicken (or pieces) – Kosher tastes so much better
2-3 Whole or halved carrots
2-3 Whole or halved stalks of celery
Turnip, cut into approximately 4 pieces (optional)
Parsnip, cut into approximately 4 pieces (optional)
Fresh Dill
Kosher Salt
Kosher Pepper
Organic Chicken Broth (to have on hand in case you don't get enough broth from the cooking, remembering that the matzah balls will absorb some of it)
Matzah Balls
Mazto Meal
Seltzer water
Vegetable Oil
Eggs
Directions Day Before:
Broth
In a Dutch oven, place olive oil, whole or halved carrots, whole or halved celery, parsley, garlic, and dill to taste. Sauté vegetables for 3-4 minutes but don't let them burn
Fill the pot ½ way with water
Add a whole chicken. You can also use chicken pieces equivalent to a whole chicken
Slow cook for 8 hours
Chicken will be falling off the bones
Remove good chicken pieces and reserve for another use
Strain broth into a clean container. Let cool, then refrigerate overnight
If needed, add organic chicken broth to stretch your yield of broth
Discard bones and strained solids
Matzah Balls
Follow the directions for making matzah balls listed on the matzo meal packaging to make the size and number of matzah balls you desire, BUT substitute seltzer for the water. It makes the matzah balls nice and fluffy
Moisten hands with cold water, and shape pieces of matzo ball mixture into balls of the desired size, usually a little smaller than a ping-pong ball, but this is up to your personal preference NOTE: Keep in mind that the smaller the matzo balls they more quickly they'll absorb the broth once added to the soup
Place matzah balls on a cookie sheet lined with waxed paper, and refrigerate overnight so that they hold their shape
Directions Serving Day – No more than three hours before serving
Remove broth from the refrigerator. Fat will have separated to the top. Skim and remove fat
Place broth in pot or Dutch oven
Add fresh, sliced carrots
Season to taste with: fresh dill, kosher salt and pepper
Bring soup to a boil
Add Matzah balls. You can do this ahead and let them sit for a while, but don't add them any earlier than three hours before serving so they don't get too mushy
Reduce heat to simmer soup. Cover and cook for 30 minutes until matzah balls are soft and fluffy
2. Passover Beef Brisket
This recipe is a collaboration of memory and research. All but a few details were submitted by Angela Smith, Executive Assistant and Jewish Voice employee since 2009. Angela learned the recipe from a roommate's mother who now lives in Israel.
Begin the night/day before.
This recipe adds uncooked rice for the final 20-30 minutes of cooking time for "something out of this world!"
If you prefer not to use the wine, see the Marinade instructions for how to substitute.
Ingredients
Marinade
Place ½ cup of Chardonnay in each of two plastic zipper bags*
Add half of soup mix to each bag
Seal bags and mix the contents together until evenly blended
Cut brisket into two pieces and place one half into each bag of marinade. If there is not enough marinade to cover the meat, you can add more wine, seal the bags, and massage the contents until thoroughly covered.
Marinate overnight, 12 hours or more
*If you prefer not to use the wine, you can replace it with the ketchup – half a bottle in each bag – and just not add the ketchup later when the recipe calls for it
In a slow cooker**
Place marinated meat and marinade in a slow cooker
Add Ketchup
Cook 6-8 hours on Low setting
**For conventional oven: place meat, marinade, and ketchup in a deep roasting pan. Cover, and bake in a 275-degree oven for 6-8 hours.
Add Rice
For the last 20-30 minutes of cooking time.
When meat is tender and falling apart, add 3.5 cups uncooked rice to the pot. Cover and cook for another 20-30 minutes until rice is fully cooked but not overdone.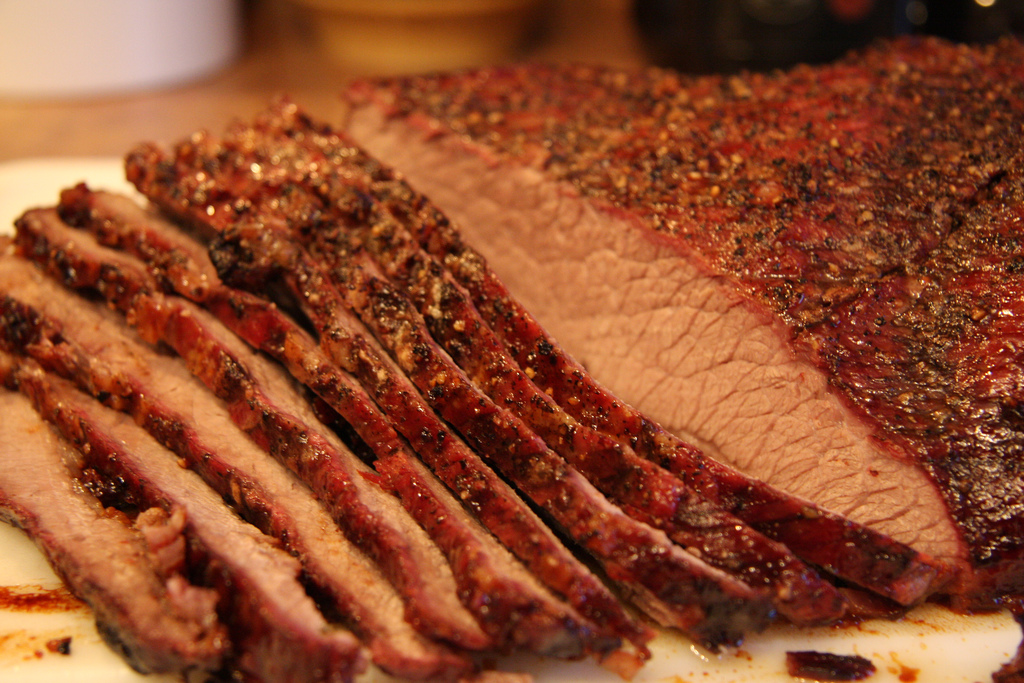 3. Vegetable Kugel
Submitted by Elisangela Bernis, wife of Jewish Voice President and CEO, Jonathan Bernis. Jonathan's mother, Fayanne, passed this family recipe on to Elisangela.
Ingredients
4 Matzos
2/3 cup olive oil
1/2 cup chopped onion (more if you like a lot of onion)
1 cup chopped celery
2 cups sliced mushrooms
2 cups grated carrots
2 cups grated zucchini
6 eggs
3/4 cup finely chopped flat parsley
salt and pepper to taste
Directions
Preheat oven to 350F degrees. Grease a 2-quart baking pan
Break matzos into pieces about the size of a quarter. In a large bowl, soak matzah pieces in water until soft. Squeeze water from matzah (this takes just a few moments) and return matzah to a dry bowl
Sauté onion and celery in 1/3 cup oil until soft. Add mushrooms, sauté until they are soft. Add vegetable mixture to matzah
Wipe out your cooking pan, and add the remaining oil. Heat until oil is hot, then add carrots. Sauté for 4 minutes, and add zucchini. Sauté until all are soft. Add carrots and zucchini to the matzah mixture
Stir in eggs, parsley, salt, and pepper
Pour into prepared pan
Bake 30 minutes until brown on top
4. Roasted Sweetened Carrots
Submitted by Rabbetzin Sandie Zimmerman, wife of Rabbi Jack Zimmerman, Senior Rabbi of Tree of Life Messianic Congregation, and Jewish Voice staff member since 2004.
Ingredients
2 cups sliced Carrots(you can cut them in angled slices or lengthwise)
2 TB Melted Butter
1/3 cup Maple Syrup
Sage
Sea Salt
Pepper
Directions
In a mixing bowl, drizzle melted butter over sliced carrots and toss until evenly coated
Drizzle Maple Syrup onto carrots and toss again
Spread Carrots on a baking sheet
Sprinkle with sage, sea salt, and pepper to taste
Bake in a 400F oven for approximately 20 minutes, turning occasionally and carefully watching to prevent burning
5. Roasted Asparagus
Submitted by Rabbetzin Sandie Zimmerman, wife of Rabbi Jack Zimmerman, Senior Rabbi of Tree of Life Messianic Congregation, and Jewish Voice staff member since 2004.
Ingredients
One Bunch of Asparagus
3-4 TB Ranch Salad Dressing or other creamy salad dressing
Sea Salt
Pepper
Ideas for Optional Extras
French's French Fried Onions
Pine Nuts
Almonds
Walnuts
Directions
Trim bottoms of asparagus spears to remove tough, white ends
Place salad dressing and asparagus in a zipper bag and toss until evenly coated
Spread Asparagus on a baking sheet in one layer
Sprinkle with sea salt and pepper to taste
If desired, sprinkle one (or more) of additional items such as French Fried Onions or nuts
Roast in a 400F oven for about 7 minutes or until al dente
You must keep an eye on them so they do not burn!

6.Passover Pecan Bars
Submitted by Elisangela Bernis, wife of Jewish Voice President and CEO Jonathan Bernis.
Ingredients
Crust
1 cup matzo cake meal
1/2 cup matzo meal
1 cup packed brown sugar
1/4 cup ground toasted pecans
1/2 teaspoon ground cinnamon
1/4 teaspoon salt
6 tablespoons unsalted butter
1 large egg white
Cooking spray
Filling
1 1/3 cups packed brown sugar
1/2 cup maple syrup
2 tablespoons unsalted butter, melted
1 tablespoon vanilla extract
1 teaspoon fresh lemon juice
1/8 teaspoon salt
5 large egg whites
1 large egg
1/3 cup flaked sweetened coconut
2 tablespoons finely chopped pecans
Directions
Preheat oven to 350°F
CRUST: Lightly spoon matzo cake meal and matzo meal into dry measuring cups, and level with a knife. Combine first 6 ingredients (matzo cake meal through salt), stirring with a whisk. Cut in 6 tablespoons butter with a pastry blender or 2 knives until the mixture resembles coarse meal. Add 1 egg white, stirring just until moist. Coat a 13x9-inch baking pan with cooking spray. Press mixture into an even layer in the pan. Bake at 350°F for 20 minutes or until edges begin to brown. Cool 15 minutes.
FILLING: Combine first 8 ingredients (brown sugar through egg) in a medium bowl, stirring well with a whisk. Stir in coconut and pecans. Pour over the prepared crust. Bake at 350°F for 30 minutes or until set. Cool to room temperature. Cover and chill at least 1 hour. Cut into bars. Makes 48 bars.
7. Matzah Toffee
This popular dessert was submitted by a number of Jewish Voice employees, so it must be a winner!
Ingredients
1 cup butter (not margarine)
1 cup sugar
store-bought matzah
1 bag (2 cups) semi-sweet (or bittersweet) chocolate chips

Directions
Preheat oven to 325 degrees
Completely cover 10 x 15 jelly roll pan with one layer of broken matzah pieces
Put butter and sugar in a small pot over medium heat and bring to a boil, stirring frequently
Boil for three minutes, stirring constantly
Evenly pour mixture over matzah
Bake for 12-15 minutes until toffee is golden brown and bubbly
Remove from oven and immediately sprinkle with chocolate chips
Wait two minutes, then spread melted chocolate evenly over top
Put pan in freezer for 20 minutes
Break toffee into pieces, and enjoy!
Store in plastic bag in refrigerator or freezer