We can never underestimate the importance of worship.
Worship focuses our hearts and eyes on the goodness and greatness of God. Worship sets the stage for what He is about to do. As we magnify Him, our hearts are softened, and we are renewed in the glory of His presence.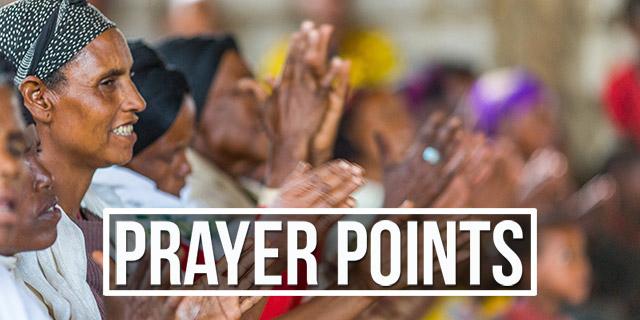 Just as Yeshua is seated in heavenly places, so are we. We don't have to live, pray or interact from an earthly perspective. We can live from an eternal and heavenly one, above all principalities and powers. As we worship, pray and act from this vantage point, darkness is pushed back, and we gain spiritual ground.
Those are just some of the reasons why the element of worship and the spiritual care component of our Outreaches are so important. Please join us in praying for this area, in particular for the first Outreaches of the year in March and April.
Please pray:
By first thanking God that many of the spiritual care roles for this year's Outreaches are already filled
Pray also for:
A trip chaplain for our first Outreach of the year in Ethiopia
Worship leaders for each of our first two Outreaches of 2018, one in Ethiopia in March and one in Zimbabwe in April
The Lord to prepare the worship leaders, trip chaplains and spiritual care coordinators for each Outreach by encouraging them in their spiritual lives and reminding them just how glorious and faithful He is
Teachable spirits in all who are called into these roles, including: the unique conditions in which they will be ministering; understanding of Messianic culture and expression; passion to see people healed, saved and delivered; and to be completely sensitive and yielded to the Ruach HaKodesh (the Holy Spirit)
God's protection over them as well as their families and circumstances making it possible for them to come serve in this way
Great effectiveness in the Prayer Rooms and Prayer Tents on each Outreach, as we call on the Lord together, and watch Him do great and mighty things
We pray now: Lord, we want our Outreaches to succeed logistically, and to be spiritually effective. We need Your presence to permeate every aspect and Your Spirit to fill and equip us to minister the life of Yeshua to everyone we encounter. Please bring us those who can effectively steward the spiritual aspects of our Outreaches, for Your Name's sake, and that You would be glorified and that multitudes will be blessed. In Yeshua's name, amen.